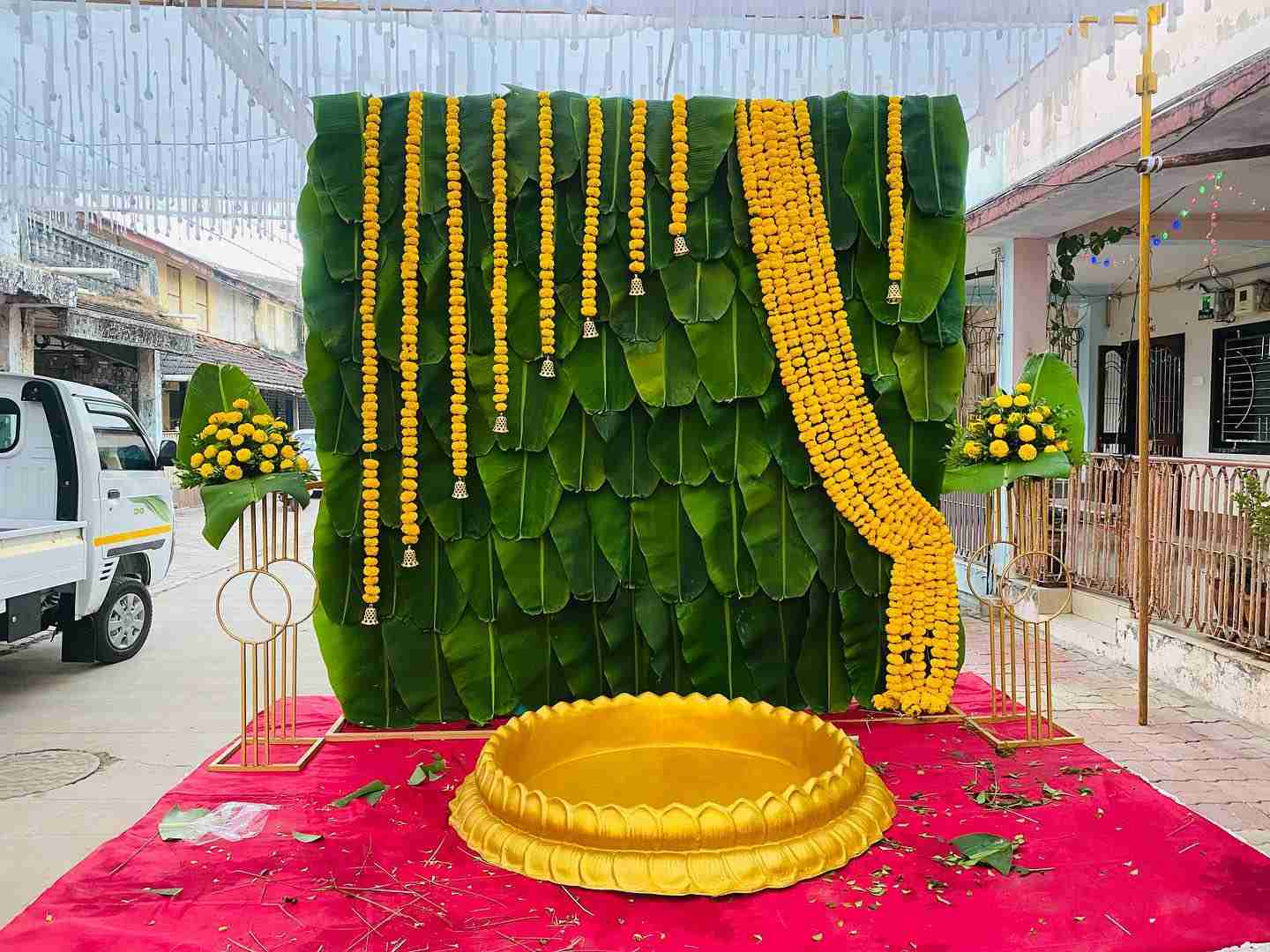 If you're planning a vibrant and traditional haldi ceremony, one of the most captivating and eco-friendly ways to adorn your space is through "banana leaf decoration for haldi." Incorporating banana leaves into your haldi ceremony decor not only adds a touch of natural elegance but also holds cultural significance in many Indian traditions.
In this blog, we will explore creative ideas and tips on how to use banana leaves to enhance the beauty and auspiciousness of your haldi ceremony. From vibrant mandap settings to stunning table arrangements, discover how these versatile leaves can transform your haldi celebration into a visually captivating and culturally rich experience.
#1 When it comes to incorporating banana leaf decoration for your haldi ceremony, the possibilities are endless. One delightful option is to combine it with a stunning lotus seating arrangement and a vibrant floral display.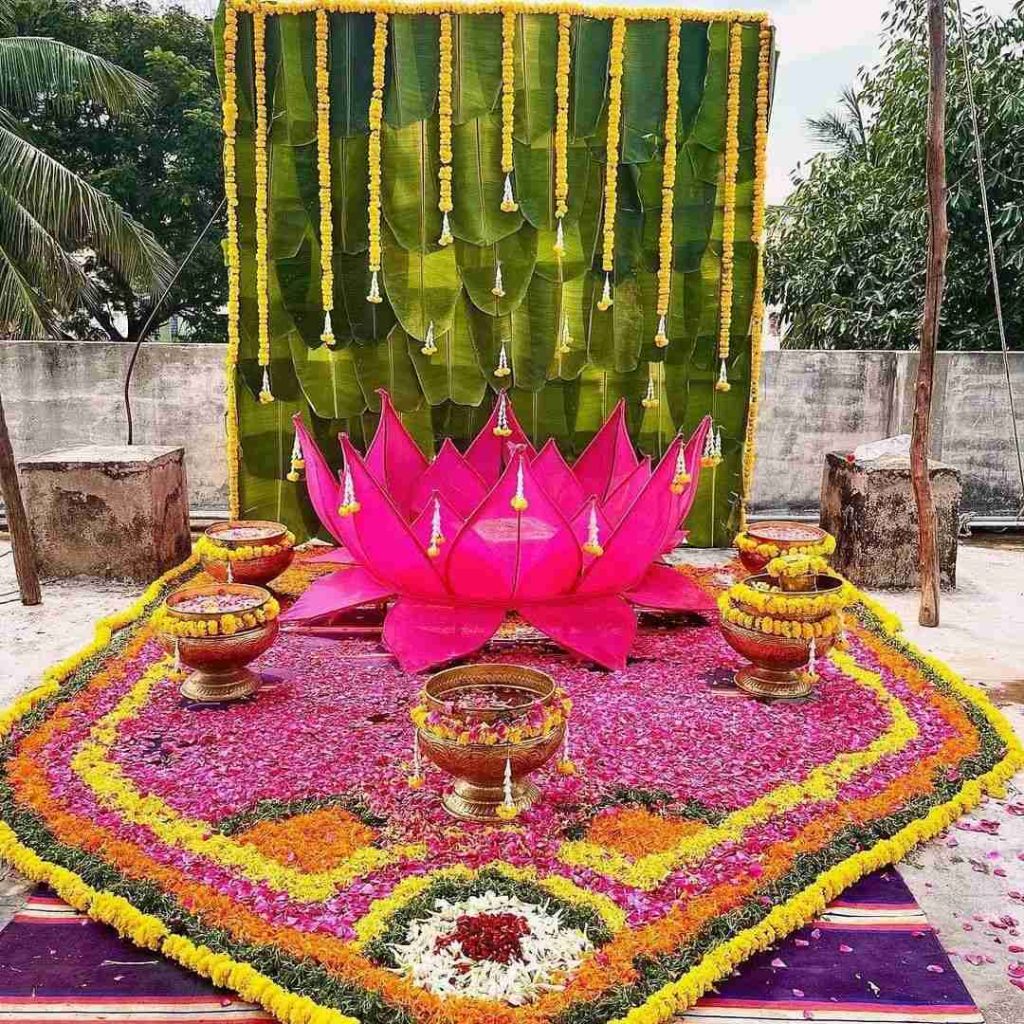 Credits: pixietaleevents
#2 For those who appreciate the beauty of simplicity, a minimalistic approach to haldi decor using banana leaves can be absolutely enchanting.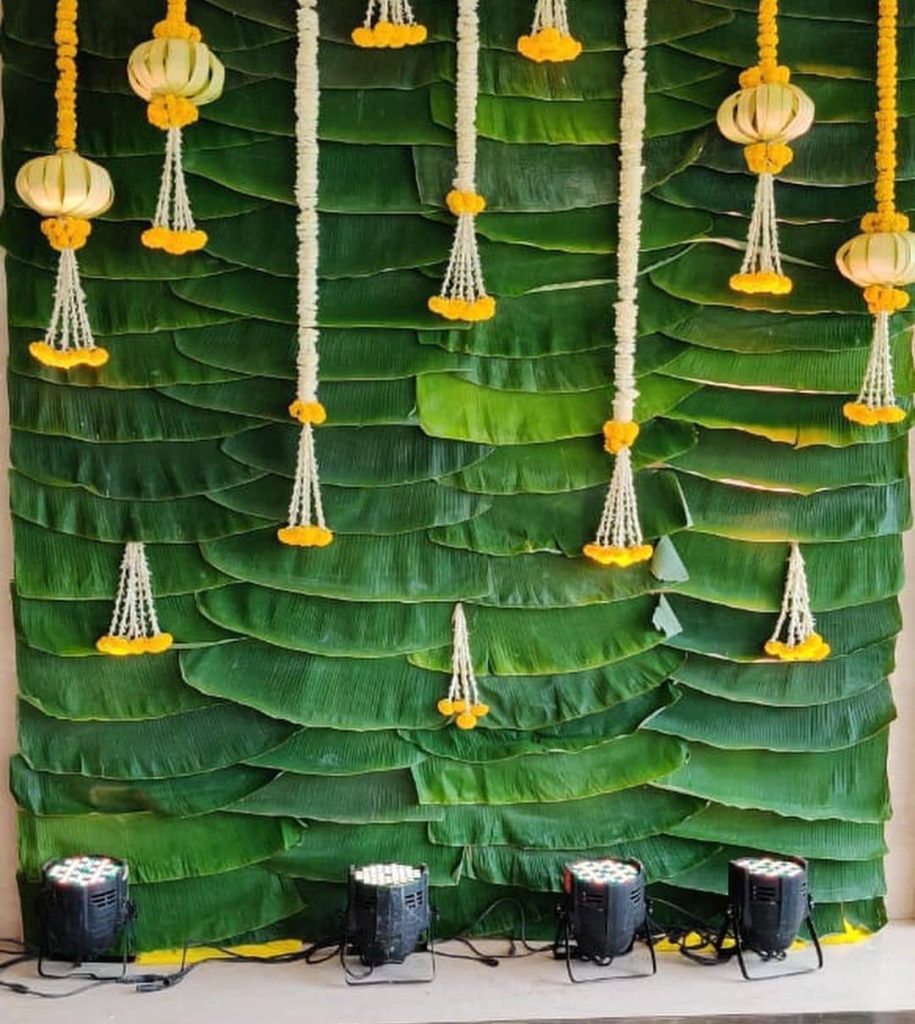 #3 For couples seeking a modern twist on their haldi ceremony while still embracing the traditional beauty of banana leaves, the key lies in incorporating unique seating arrangements and props.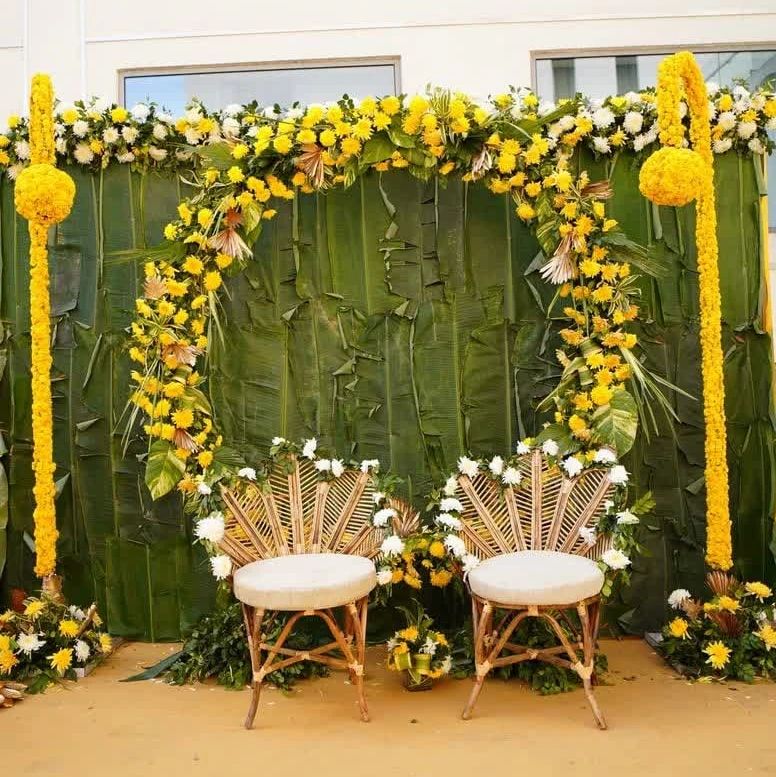 Credits: mohnaandcompany
#4 Elevate your haldi ceremony to a grand affair with a spectacular banana leaf haldi decor that includes a captivating ceiling design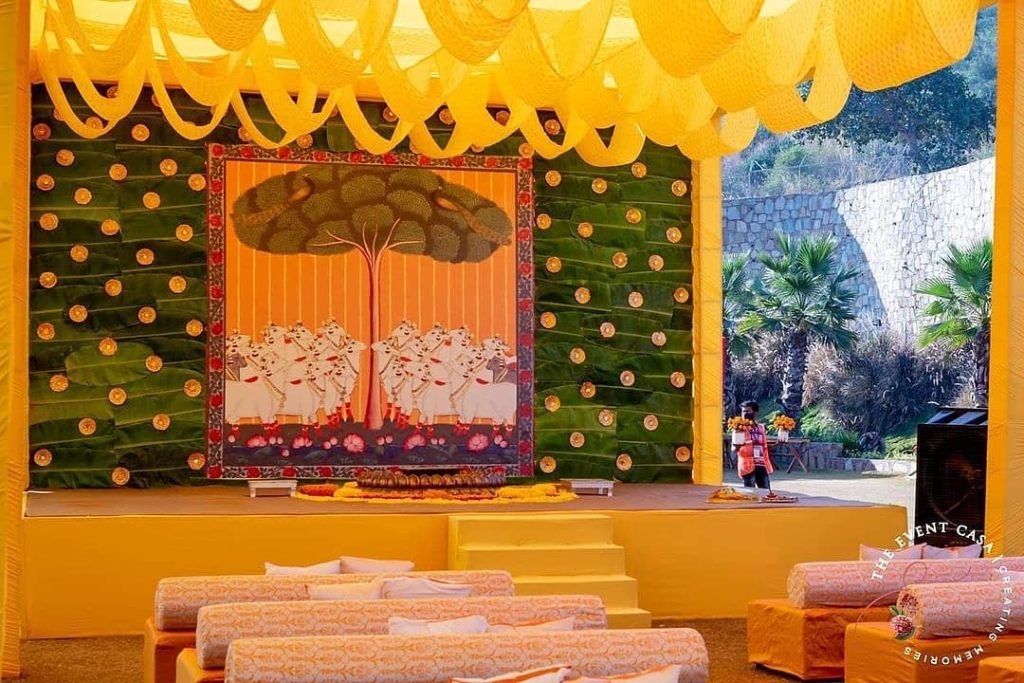 Credits: shraddha_bihani
#5 The seating arrangement in this setup exudes a stunning and flawless aesthetic, embellished with the vibrant allure of marigold flowers. Banana leaf decor perfectly blends with the floral arrangement & the seating.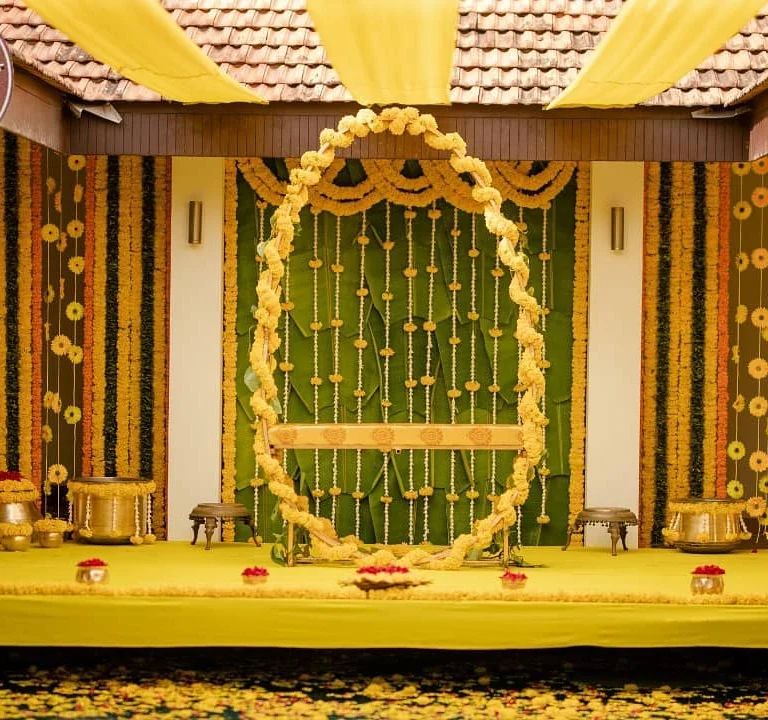 Credits: shara_petals
#6 Here's another elegant yet simple banana leaf haldi decor that tastefully incorporates marigolds in a stylish manner.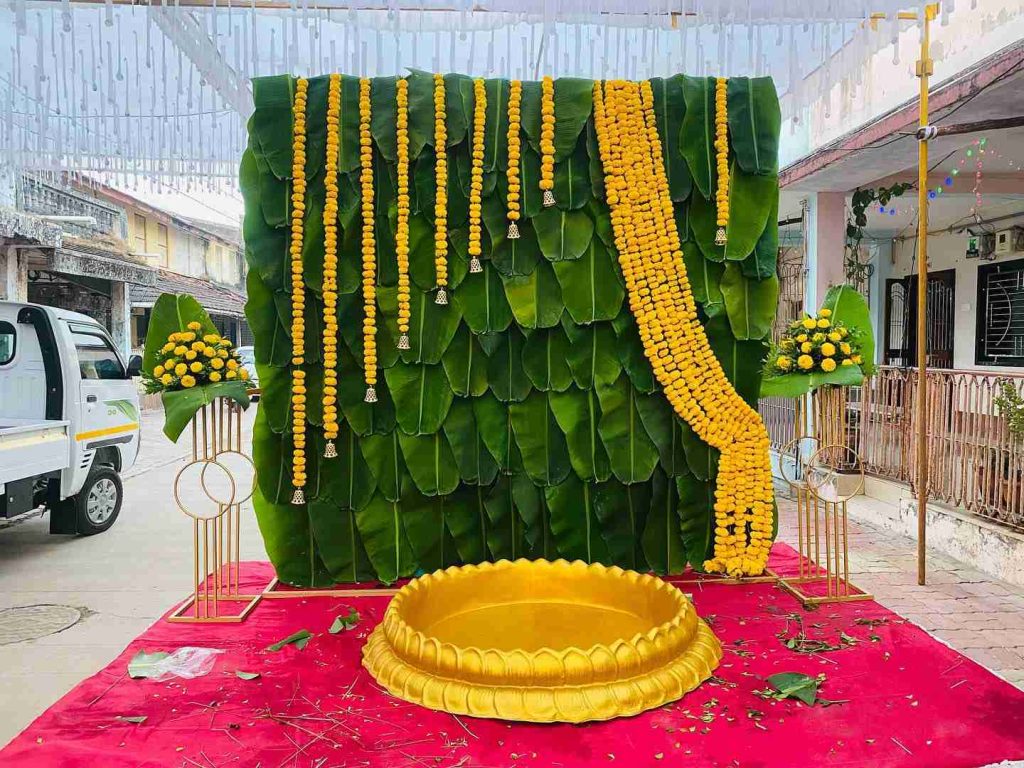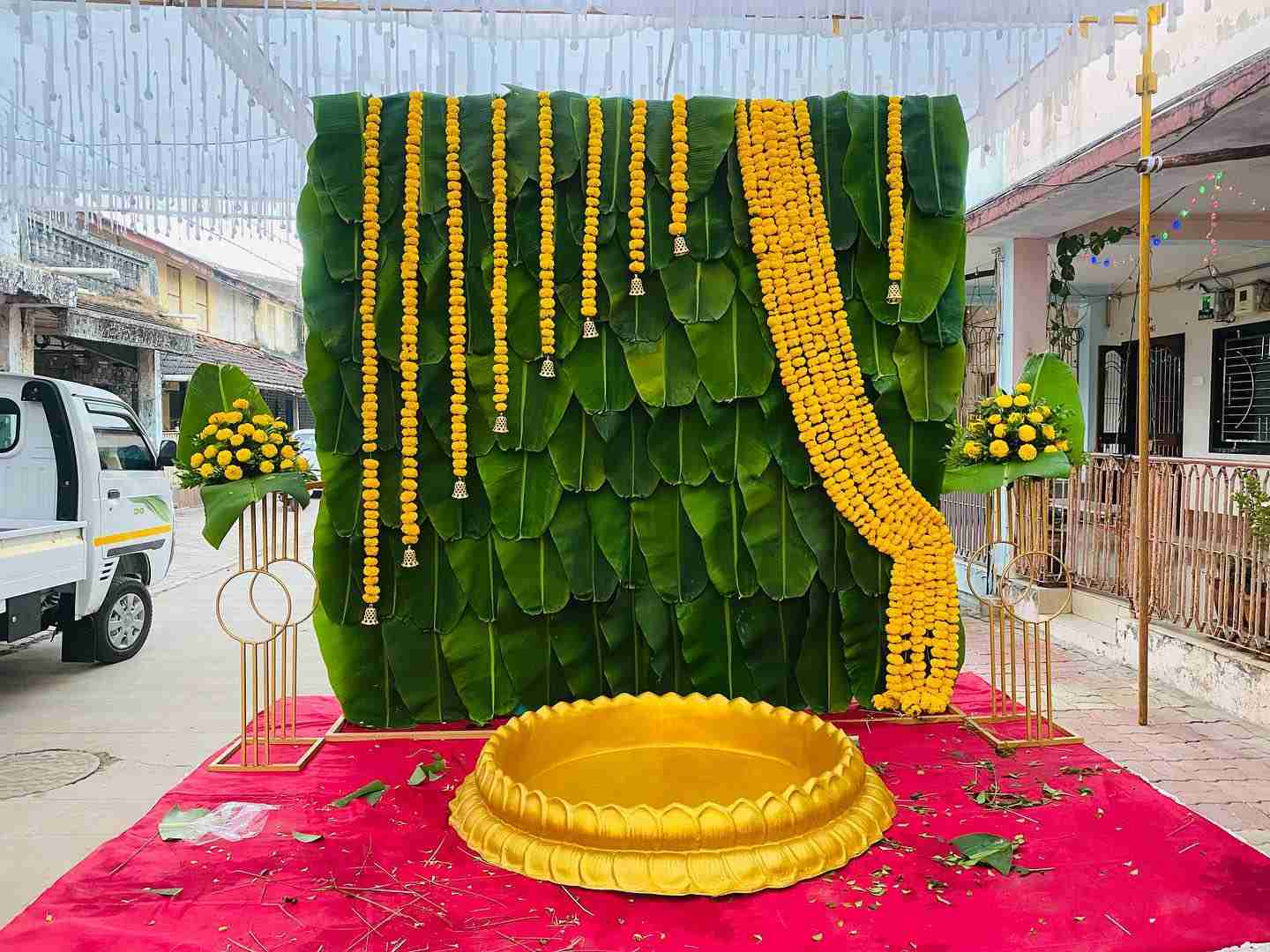 #7 Contemporary banana leaf decorations for haldi – By incorporating just a few carefully arranged banana leaves along with unique props & seating arrangement, you can achieve contemporary haldi decor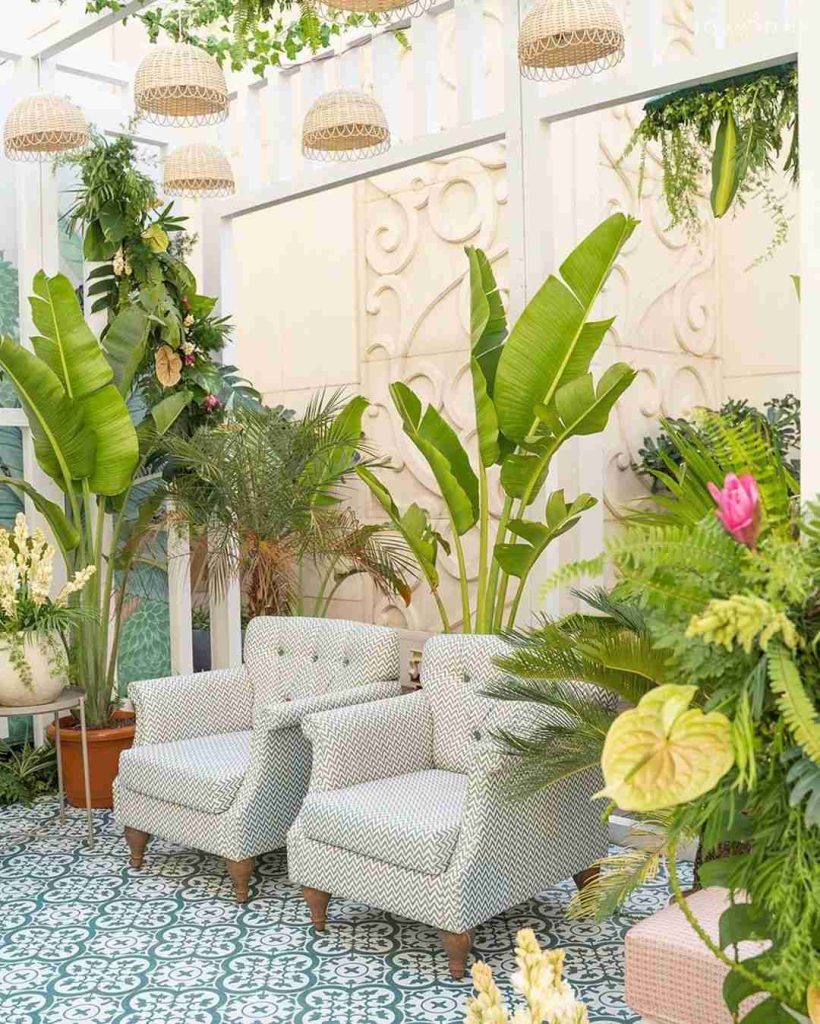 Credits: its.an.affair
#8 Picture this: a breathtaking banana leaf haldi decor adorned with the radiant beauty of sunflowers, the warmth of yellow roses, and the vibrant charm of marigold flowers. Its a dream haldi decor!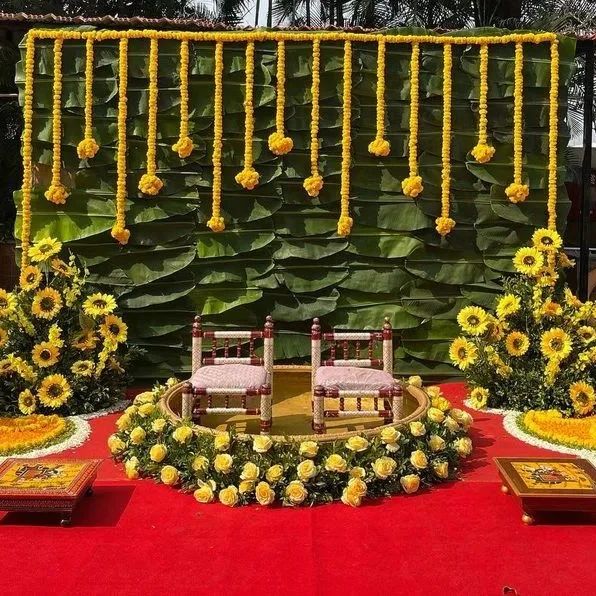 #9 Along with banana leaves for haldi decor, you can add a traditional seating backdrop – perfect for wedding photography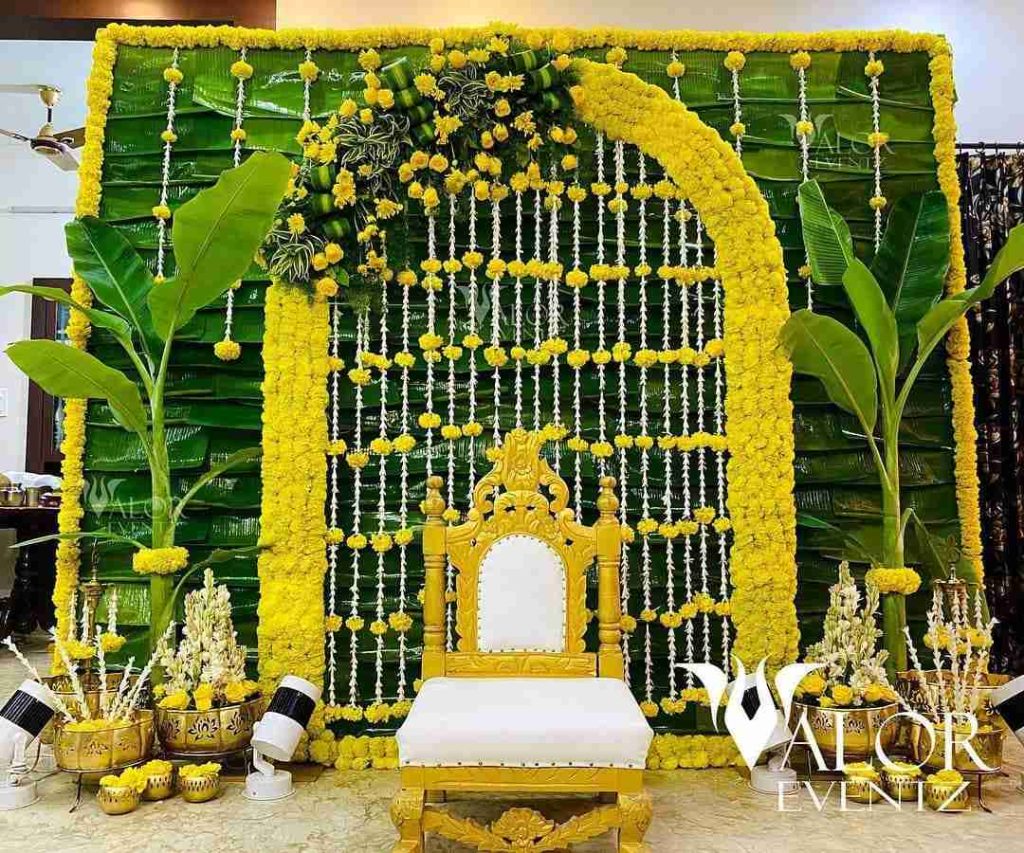 Credits: valor_eventz
#10 This unexpected yet stunning combination showcases how the purity and grace of white flowers can harmonize seamlessly with the traditional charm of banana leaves for haldi.
Credits: creative.witty
#11 Adding a Ganesha cutout adorned with marigold blends perfectly with the traditional vibes of banana leaf decor.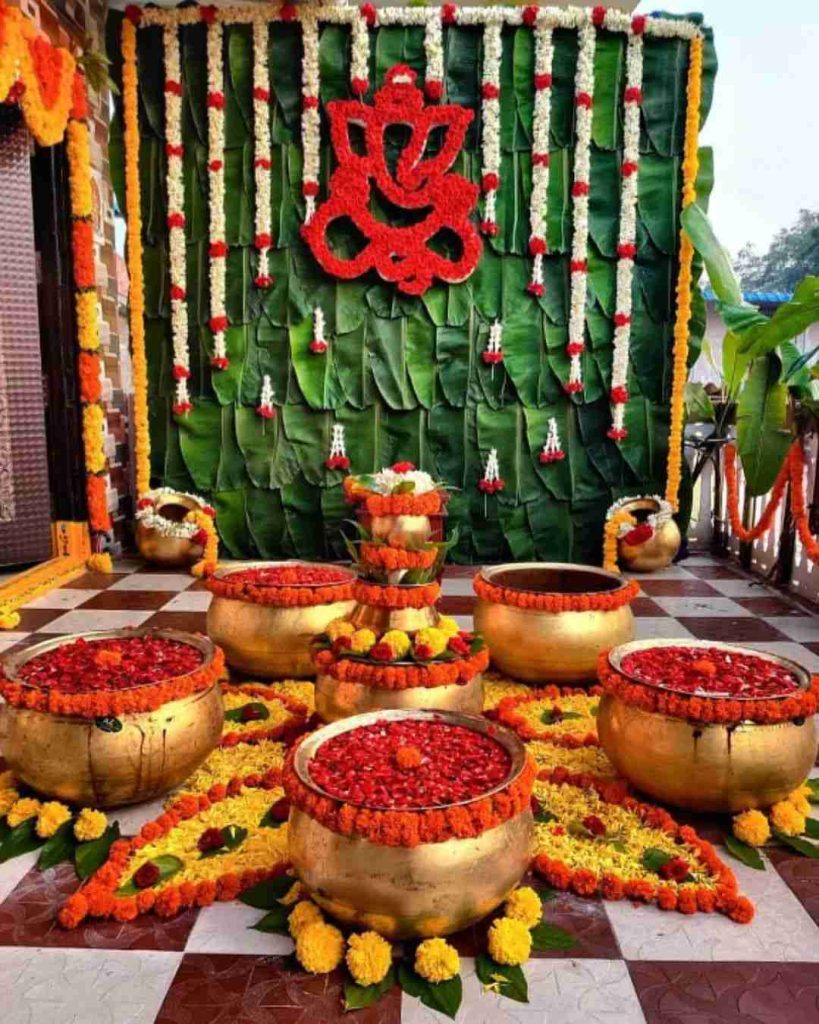 Credits: celebrations_events_cec
#12 The impact of unique props in banana leaf haldi decor is truly boundless.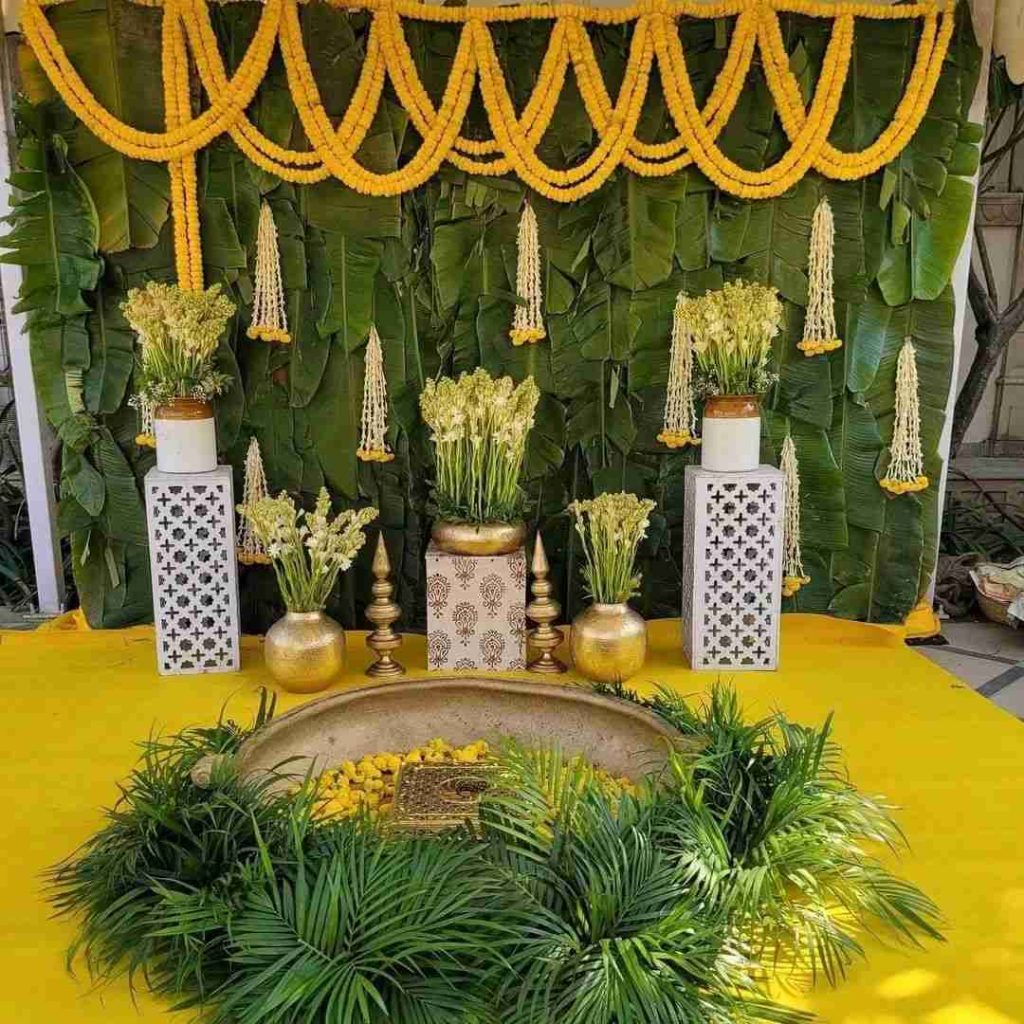 Credits: evolve_weddings
#13 These distinctive elements have the power to transform the entire ambiance, infusing it with creativity and individuality that can make your haldi ceremony an unforgettable and one-of-a-kind experience.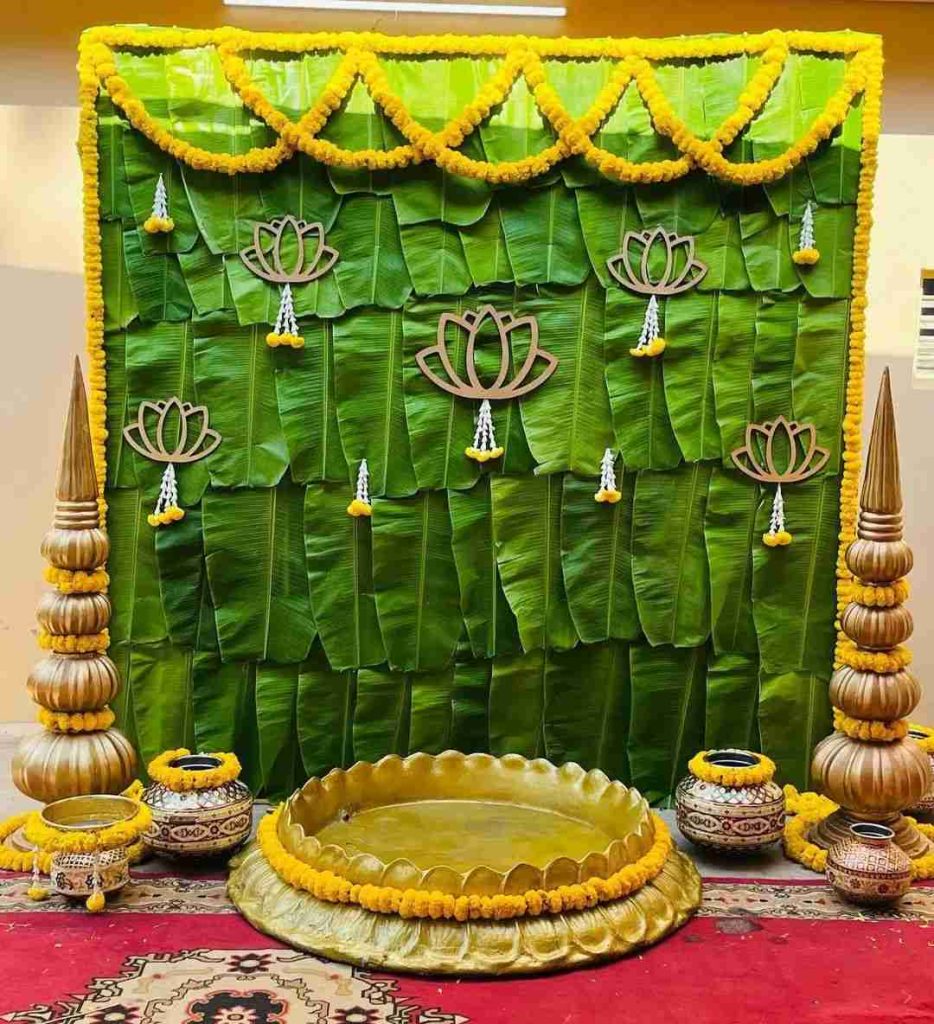 Credits: d_creations.blr
#14 Enhance the charm of your haldi ceremony by incorporating banana leaves into your pathway decor.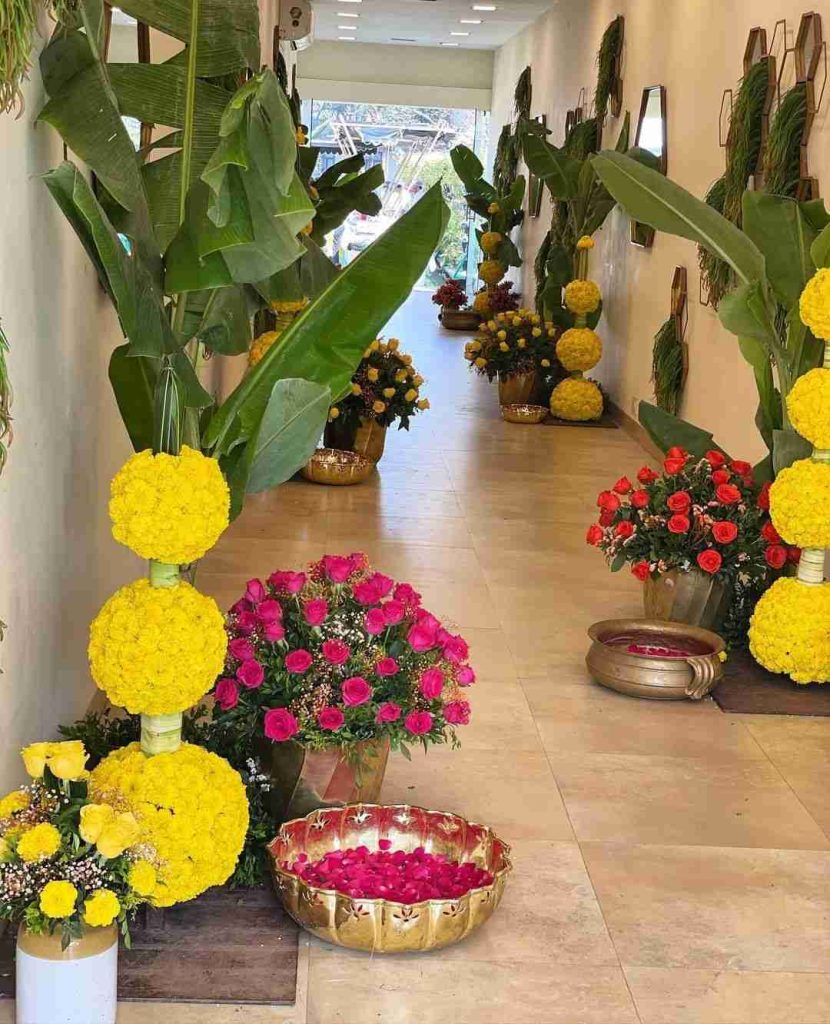 Credits: aestheticlabindia
#15 Behold the grandeur of a truly stunning floral arrangement paired with banana leaves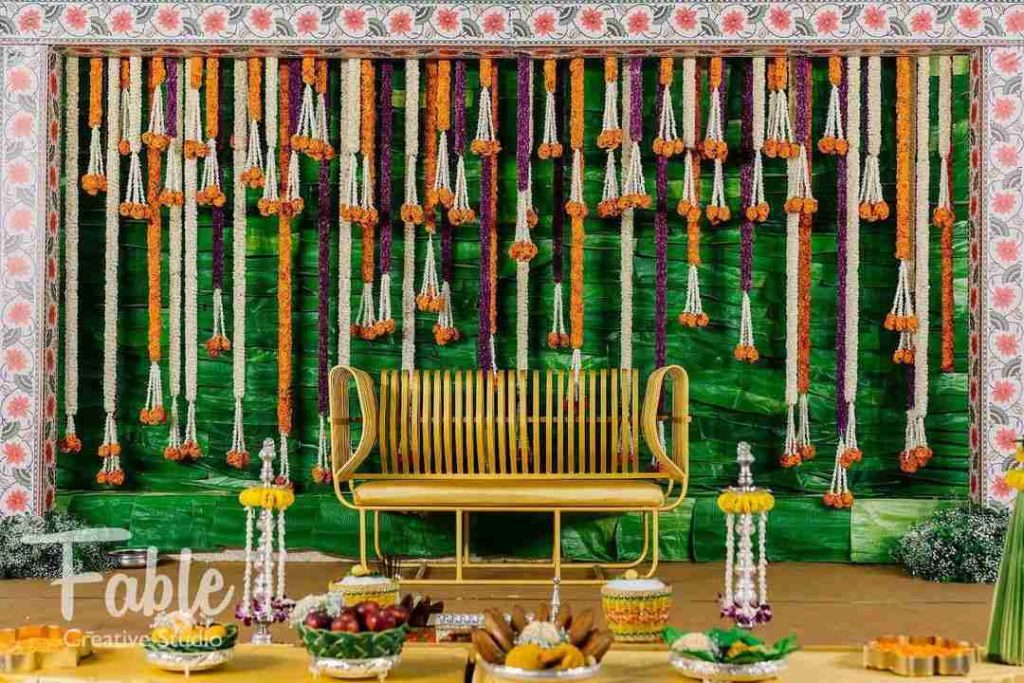 Credits: fablecreativestudio
#16 Here's another splendid haldi decor that incorporates the timeless beauty of banana leaves.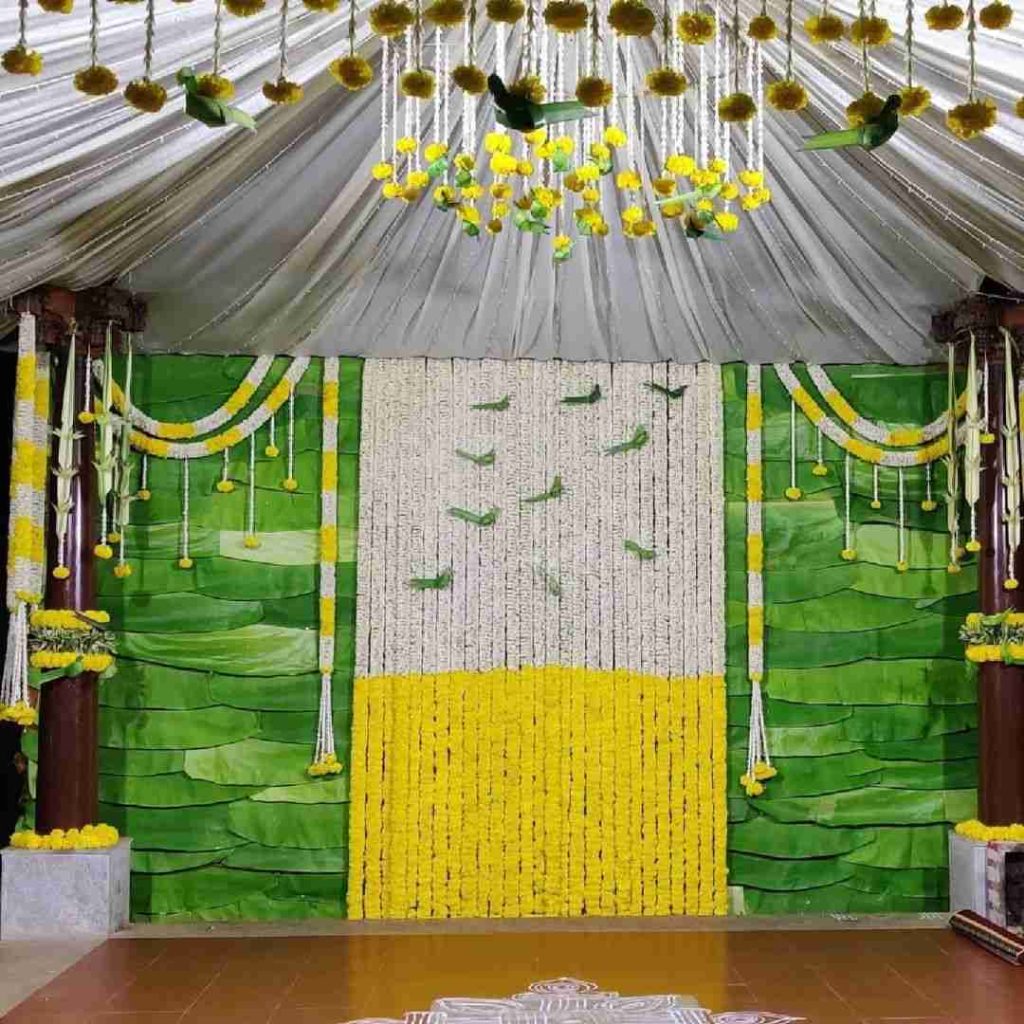 Credits: nachi_amazonblooms
#17 This gorgeous setup exemplifies the versatility and charm of using banana leaves as a prominent element in your haldi ceremony decor.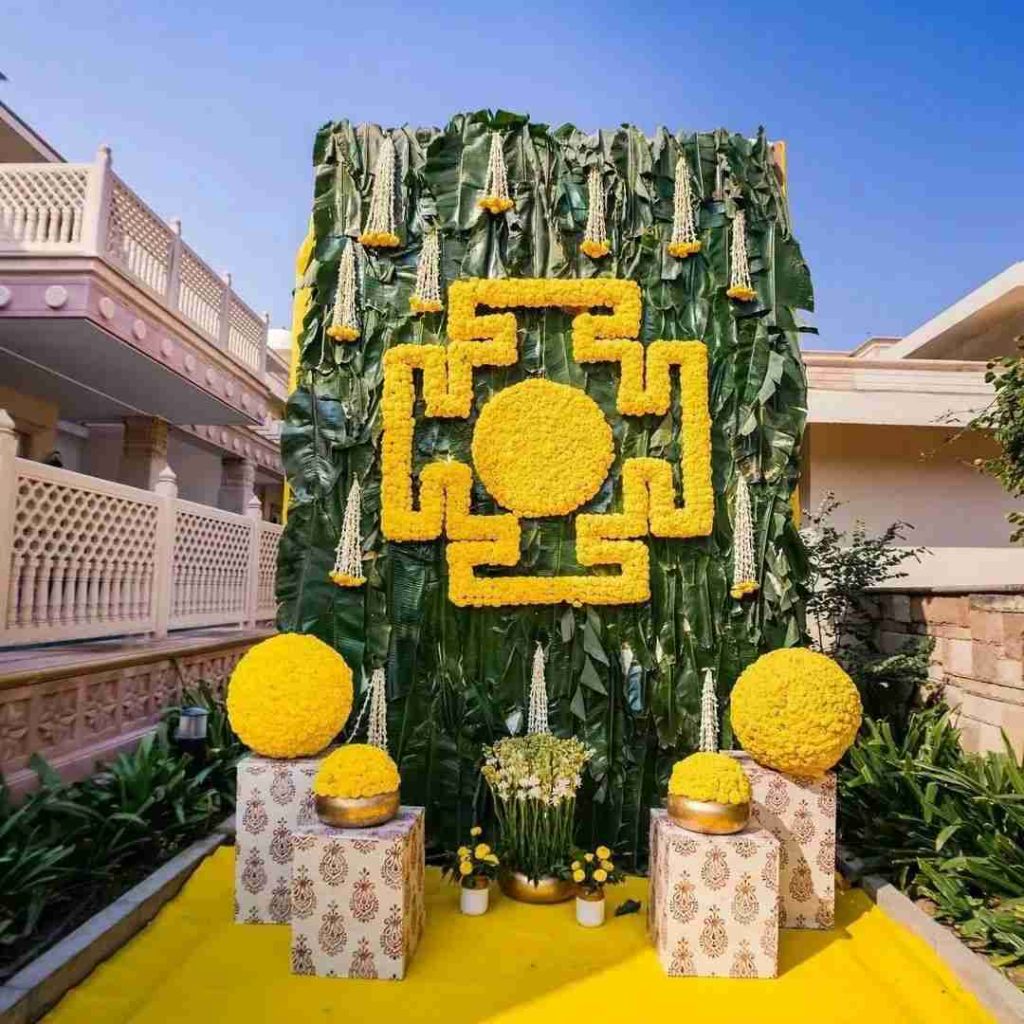 #18 Step into yet another realm of beauty with a haldi decor that features the timeless allure of banana leaves.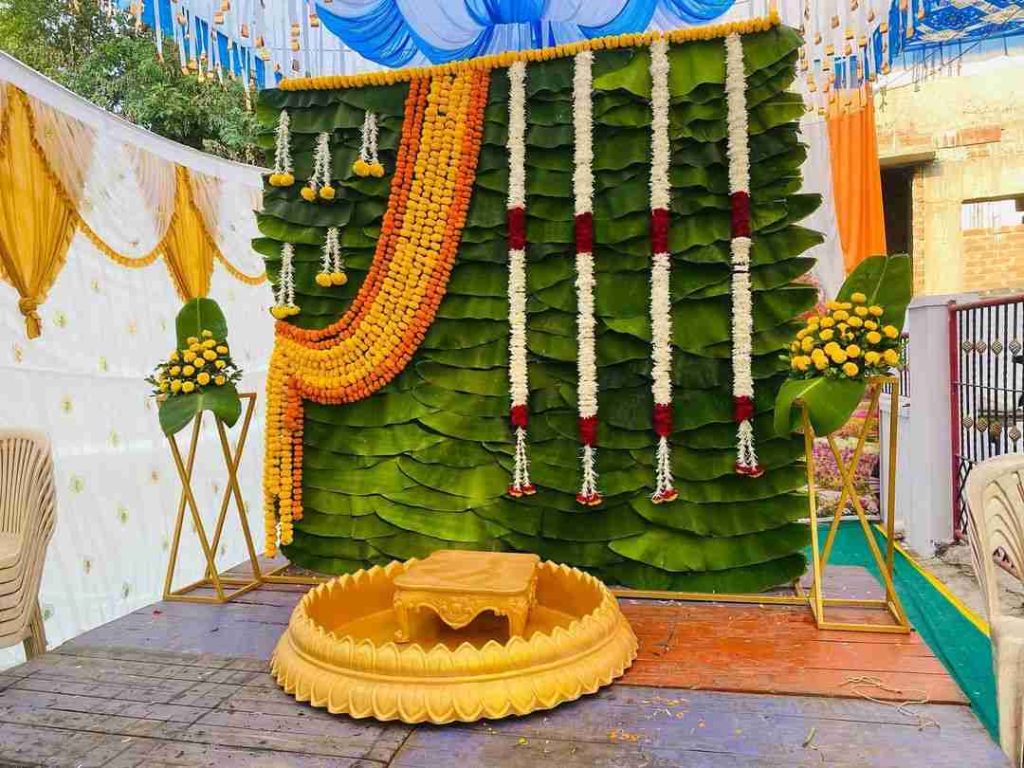 Credits: d_events_decoration
#19 This decor style exudes charm and tradition, showcasing how the simple yet elegant presence of banana leaves can create a visually stunning and culturally rich atmosphere for your haldi ceremony.
Credits: fablecreativestudio
#20 Experience the absolute beauty of a Ganesha cutout paired with unique floral arrangements and banana leaves in your haldi decor. This combination creates a breathtaking and spiritually meaningful ambiance that adds an extra layer of significance to your ceremony.
Credits: castles.coasters