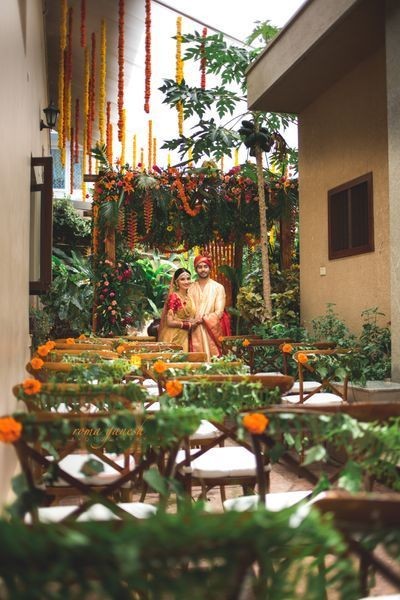 The process of planning a wedding can be thrilling and memorable, but it can also be expensive. Hosting your wedding at home might be a wonderful alternative if you want to put together a lovely intimate wedding and meaningful ceremony while keeping your costs in check. You can create a wonderful and cozy ambiance without going overboard with a little imagination and careful planning.
There are so many amazing benefits to hosting a home wedding. A place of memories & a place of the family makes for a day that's noteworthy & just yours. Nothing says love like sharing one of the most important moments of your life at your home. For a home wedding, apartments are rarely suited, you need to consider private homes and need considerable attention to logistics, parking & other amenities.
Based on the sizes of your home & that of your guest list, it's important to consider factors like wedding home décor, catering setup & hosting rooms. If you have a garden, your home wedding can be planned accordingly. This post will give you helpful advice on how to organize a lovely home wedding while staying within your budget.
Determine Your Budget: Set a reasonable wedding budget as your first step. Take into account all the necessary components, including the catering, the décor, the clothes, the entertainment, and any additional costs you may incur. Once you have a clear idea of your financial limitations, you can plan accordingly and make informed decisions throughout the process.
Utilize Your Home's Unique Features: Match your wedding home décor to the aesthetics of your home. There are so many beautiful wedding home décor ideas that you would love! If you have a colorfully painted home, a light & mellow wedding home décor may not suit you. Plan the decoration for your home wedding with your home aesthetics & surroundings in mind.
DIY Decorations: Making your own decorations can save you money while also adding a personal touch. Personalize your wedding home décor with photographs, memories & create new ones. Join your friends and family in some creative endeavors, and you'll be surprised at how much money you may save by making an additional effort.
Utilize the entire property: You can have a beautiful entrance décor/ pathway in your driveway. Embrace all the outdoor & indoor elements of the venue. Use the spaces that have a special meaning to you. A home wedding can be made as intimate as possible.
Have a Weather plan: If you have planned an outdoor wedding, be ready for plan B in case of rain. Match your home wedding time with the weather plan. You don't have to sit in the scorching sun if your muhurta timing is mid-morning.
No hassle Transportation: I bet you feel relieved when you think about all the transportation you will be avoiding by having a home wedding. All your wedding prep will be happening in one place & you will have a chance to personally be involved in them.
Involve Friends and Family: Getting your family personally involved in wedding planning is a lot of fun. Decorating your home, adding some music & working together creates a sense of community & shared joy.
It can be a great experience to plan a lovely wedding at your house. You may have a memorable party on a budget by sticking to a reasonable spending limit, making use of your home's unique features, and doing some DIY. Prioritize the things that are most important to you, and concentrate on making your special day intimate and memorable.