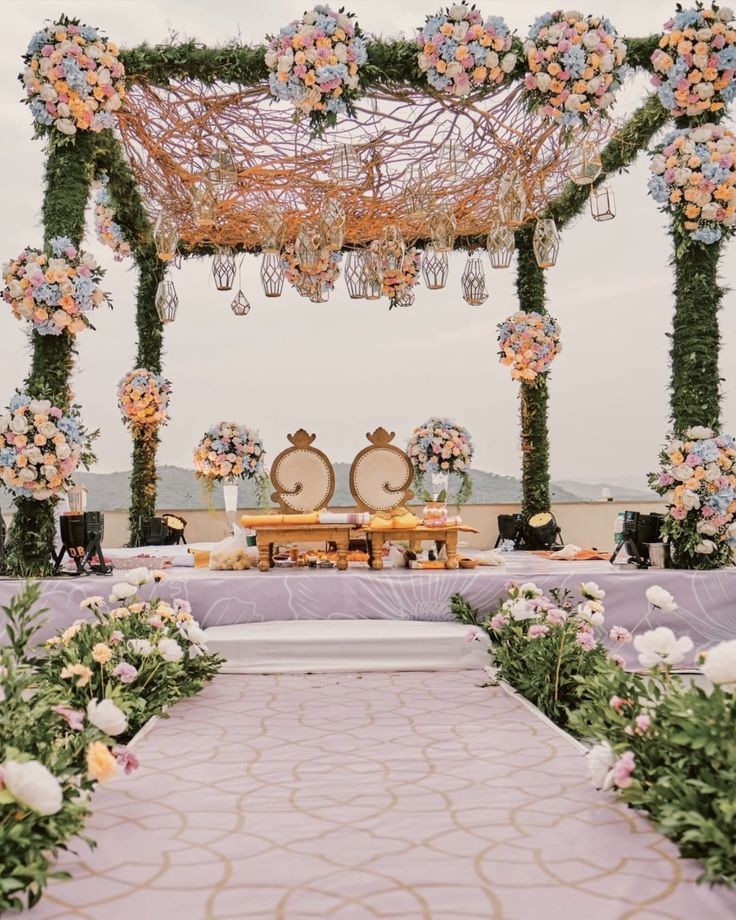 The notion that everyone wants a royal wedding since childhood: a grand palace, a magical fountain, and a gorgeous bridal attire loaded with jewels and flowers all over the place is just a minority's dream. Some of the bride & groom-to-be prefer a low-key affair while others need an exotic destination wedding & some others would love a grand wedding right at the Centre of their home town.
A destination wedding is exotic & exciting to plan, but the elements are never-ending. It is no less planning when it comes to your hometown wedding. There are a bunch of questions you need to ask yourself. Do you need an indoor wedding or an outdoor wedding?
1. Have you prepared a wedding guest list? You need the count beforehand to select a wedding venue of expected capacity.
2. Have you made a list of amenities that you need?
3. Checked out the bride, groom & guest rooms?
4. Proximity to the nearest transport if you are choosing a remote/ new wedding venue?
5. Have you decided if you are going for a leaf service or opting for buffet counters? Is there sufficient space for both & do you want a dedicated dessert corner?
Here is our best thought out 8 tips when choosing your wedding venue:
1. Your choice matters first
Before you start searching for wedding halls, designers or wedding planners, you need to decide on a theme for your wedding. Is it minimal? Or are you planning on a royal wedding theme? If it's a royal wedding that you are going for, a traditional wedding venue & a spacious one for all the grandeur would be perfect. Trust us, planning a minimalist wedding over a large wedding venue is a difficult task & we have got a lot to share with you on it!
2. A planner could be consulted.
A wedding planner has all the details or at least can find them for you. The perfect wedding hall to select, and also how to make it look gorgeous for the wedding. They could come with alternatives & sometimes the best rates too. If you want to be in the front-line & enjoy the venue scouting & plan every little detail yourself, that will be an amazing experience that may be once in a lifetime & you could do it all by yourself with time & planning.
3. Your guest list makes a difference.
If you choose a wedding venue that is too small for your guest list, the place could easily seem overcrowded. And when it comes to a typical Indian Wedding, traditional photography & videography are a must & while its time consuming, it would be even more congested at a small venue with a lengthy guest list.
Your budget for a wedding venue is more than the cost of renting the space. When you create your wedding venue budget, we have to consider the stage size, transportation, accommodation, and a lot more. Say you booked a wedding venue without considering the wedding décor expense, could burn a hole in your pocket if you have to go to cover a lot more area than initially planned.
5. Don't pay for it altogether.
Wedding halls provide packages, but sometimes you don't find them collectively convenient to pay for as the other things may not be up to the mark. We love a pro/con list & our wedding pro/con list may guide you in choosing your favorite place. A package may not be for everyone since you have limited choices and, adding any extra service will cost you at the higher end. Trust the force of the list!
6. The month of your wedding is a great play.
Ah, rain. We all love playing in the rain, but not on our big day. A summer bride/groom? We love June Weddings! It would be wise not to plan a wedding in December when you love the sun. Is water your earth force? You can plan a lovely wedding during the rainy season, just not an outdoor wedding. You can plan an outdoor wedding during the rainy season by covering the lawn with a shed & taking some extra care. Though it would be expensive compared to an outdoor wedding in summer, it would be magical.
7. Keep an open mind
Are you searching for a wedding venue that will sweep you off your feet? An unexpected one could do it for you! Keep an open mind when you are looking for your place. You may end up surprising yourself & your guests!
8. Stay in control
Yes, we know it's like saying keep calm when you are not. But staying in control of your wedding planning is an art.
You have many variants in a wedding, right from nature to family issues. Just make a list, a non-negotiable priority list. Stick to it and include your friends & family for the negotiable list. Compromise starts on your wedding day; it is all about you & you is your family too.
There are a lot of things to consider while planning a wedding. Deciding where you want to marry the person you love is a crucial decision. Take your time & you will find the one you love! Send us a picture of your wedding venue & we would love to see it!