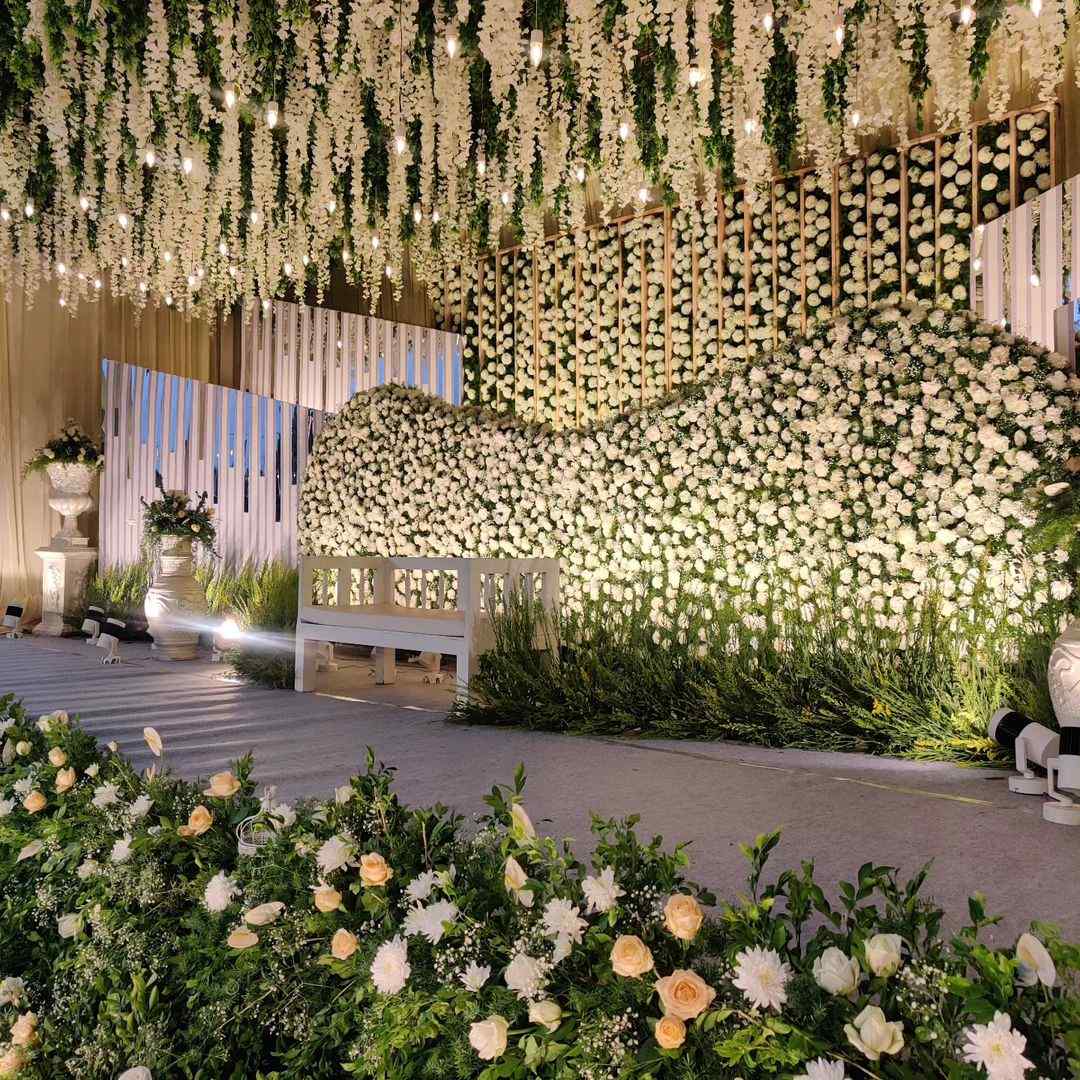 Whether you're a bride-to-be looking for wedding decor inspiration, a groom with an eye for design, or a passionate wedding decor enthusiast, our blog is your source for the latest ideas, tips, and insights that will make your wedding decor an unforgettable masterpiece.
From the grand wedding entrance to the ever memorable photobooth, we have tons of ideas for your wedding decor. Before you start your search for the perfect wedding decor, you need to decide on the theme & style of your wedding decor. Your theme could be based on different wedding color palettes, your wedding venue or it could be an eco-friendly wedding decor or you can do something grand like a Jaipur palace themed wedding decor. Once you choose your wedding theme/ style you will find a lot of wedding decor inspiration & ideas for you to choose from.
Your selection of wedding venue plays a crucial role when choosing your wedding decor. If you are going for an outdoor wedding venue or a beach destination, the wedding decor you would choose for this location would be completely different from what the decor you would choose for an indoor venue. Without further ado, we have made a list of wedding decor to suit different types of wedding venues.
Outdoor wedding stage decor ideas
1. Outdoor grandeur: This wedding decor exudes grandeur, featuring stunning ceiling drapes and a perfect ambience for an outdoor-inspired setting. The thoughtful utilization of space seamlessly brings the outdoors in, creating a natural feel without overwhelming the available area.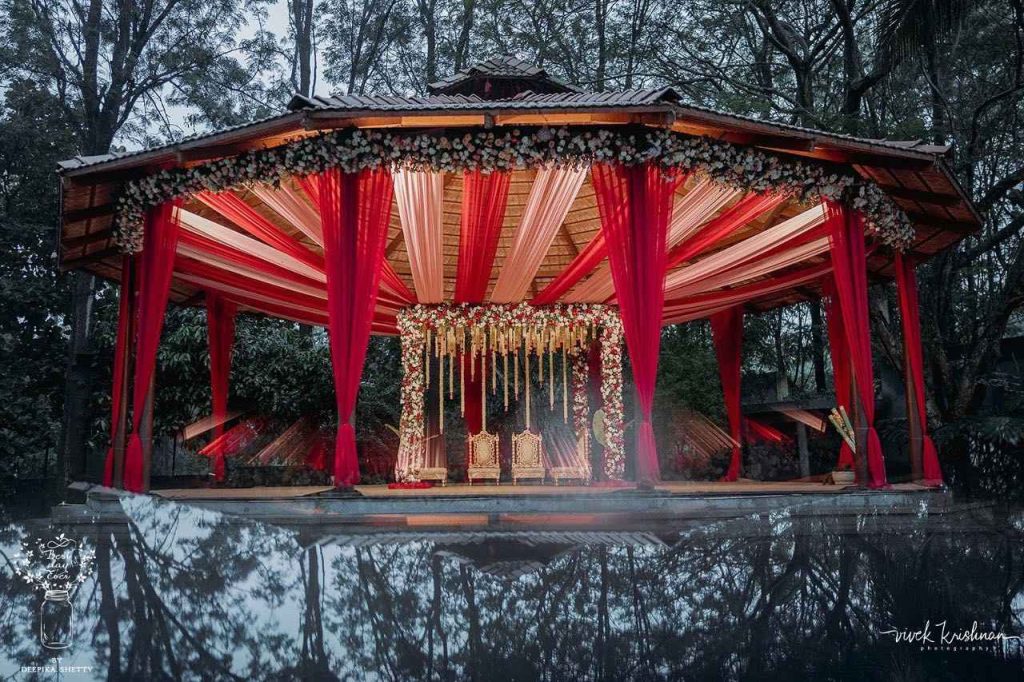 Credits: @bestdayever
2. Floral outdoor beauty: This outdoor wedding decoration brings the beauty of nature to life. It includes lovely lighting and a reception area filled with lots of beautiful flowers. The background is like a stunning painting with many different colored flowers, and it all looks amazing against the natural setting.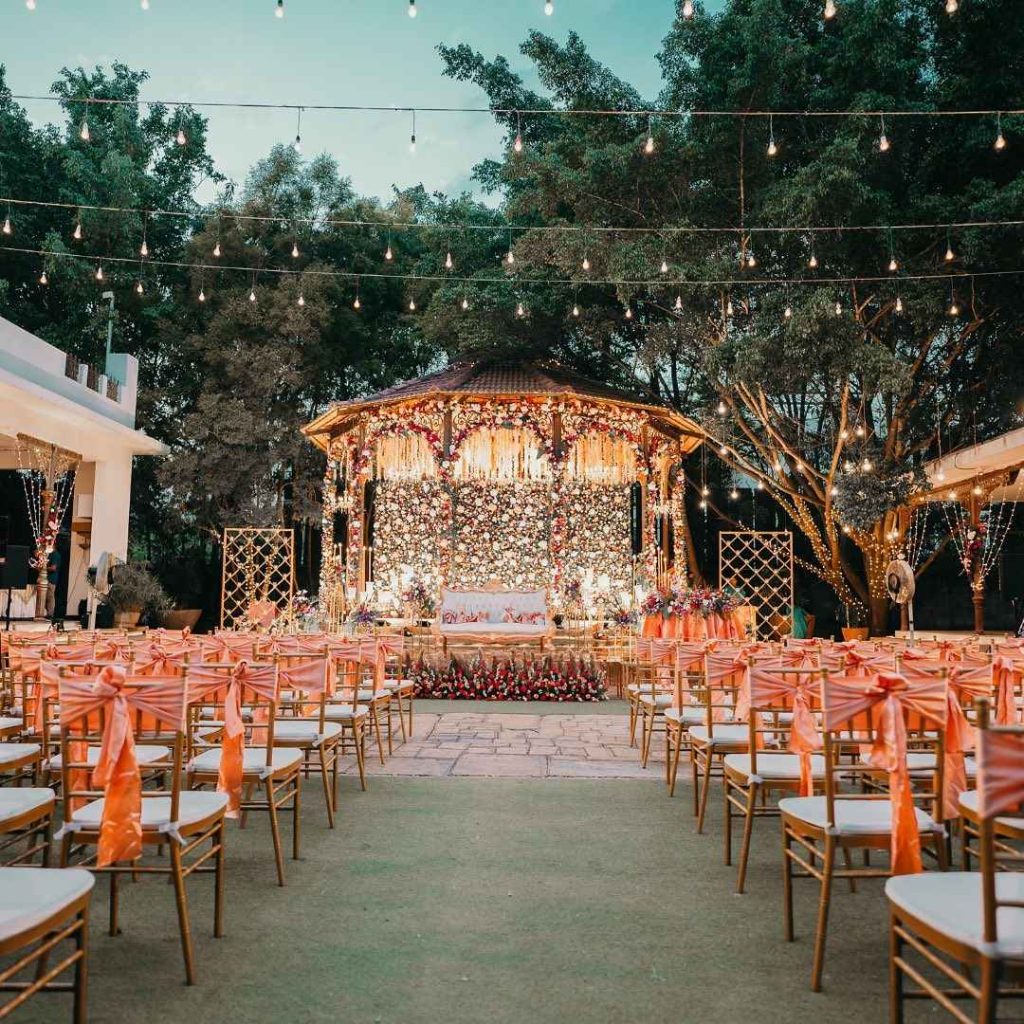 Credits: @ avenuesweddings
Outdoor Wedding mandap decor ideas
1. Traditional outdoor mandap decor: An enchanting mandap decor adorned by the timeless allure of marigolds. It forms an ideal outdoor backdrop, especially for an early morning muhurtham ceremony.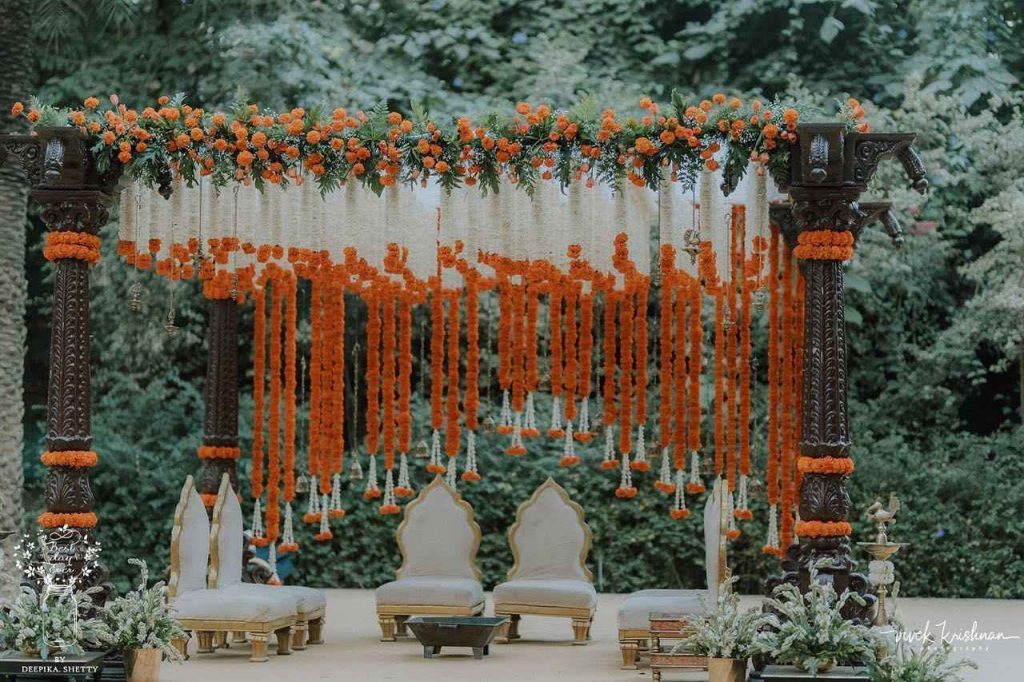 Credits: @ bestdayever
2. A beautiful mandap decoration with different red flowers that perfectly fits with the outdoor surroundings. Outdoors are perfect for both traditional & contemporary wedding decor designs.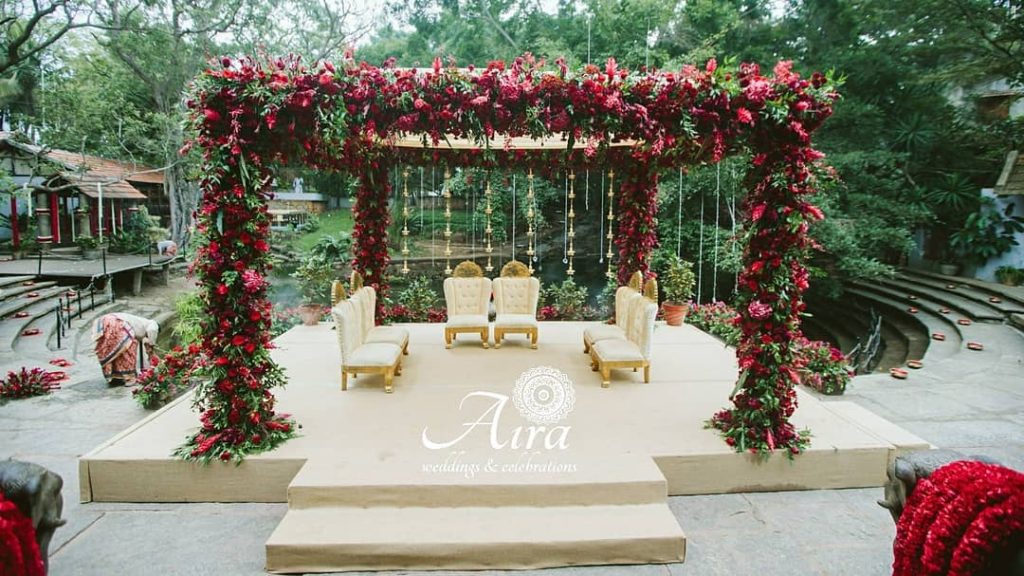 Credits: @ airaweddingplanners
Indoor Wedding stage decor ideas
1.A simple & minimalistic indoor wedding decor with golden drapes & structures adorned with florals – perfect for couples looking for minimal wedding decor ideas. For an indoor venue, drapes offer a perfect economical options & they can also be elegant & stunning with beautiful decor structures.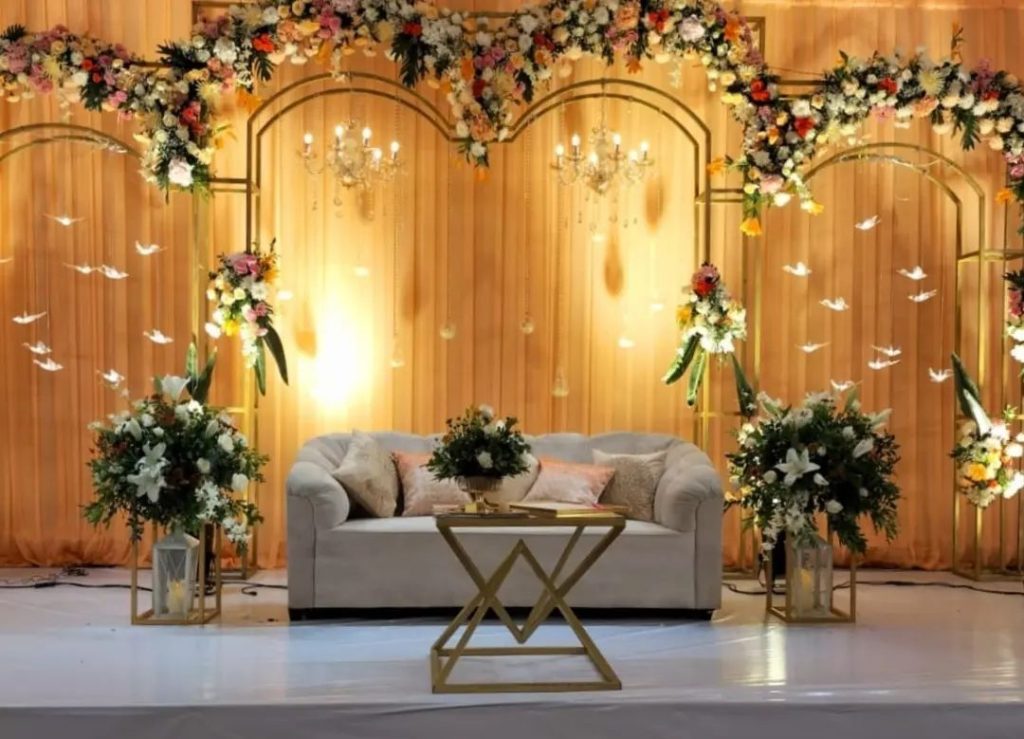 Credits: @ avenuesweddings
2. A grand floral magic with subtle white & green tones creating a perfect indoor garden vibes. You want an indoor wedding decor with nature vibes? You need to choose a decor with lots of greenery & florals. Good news is that greenery is economical while flowers can burn a hole in your pocket. Choose a design with lots of greens & adorn with creative floral blooms.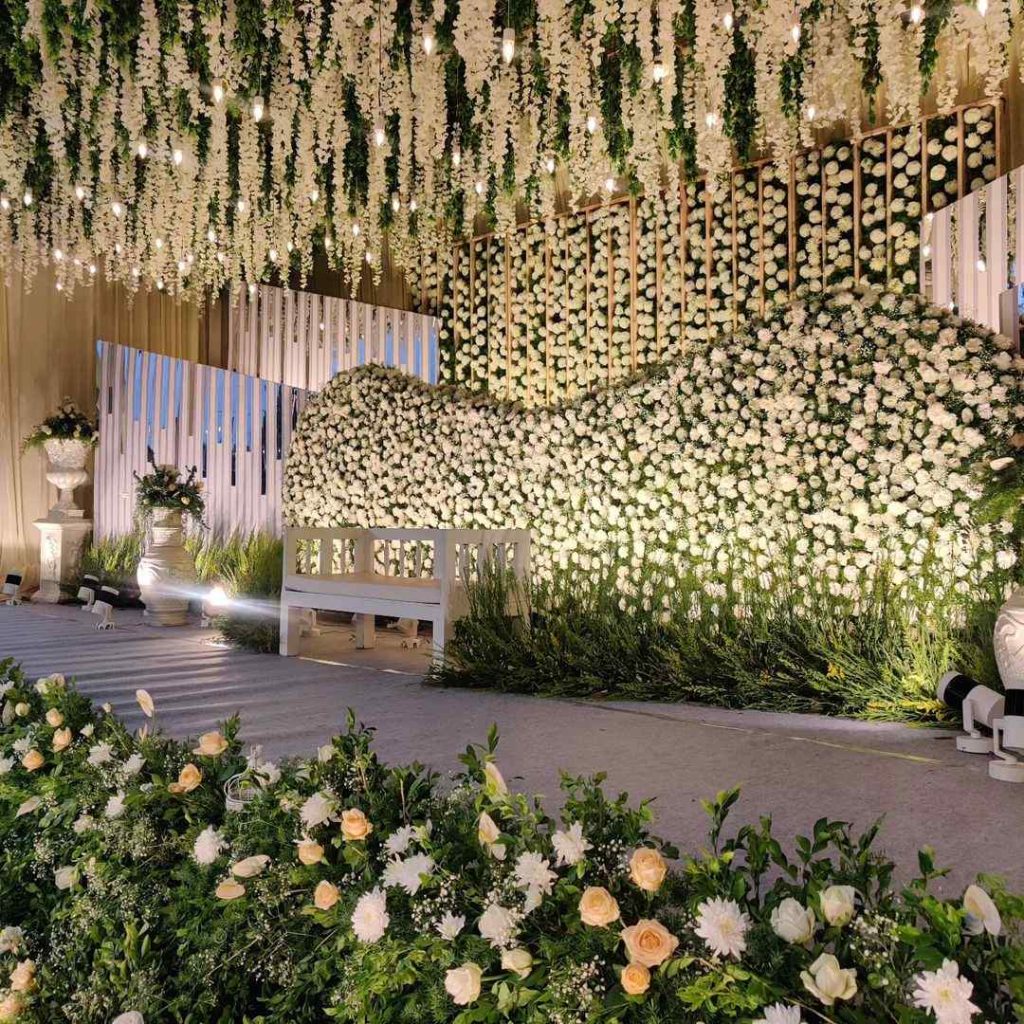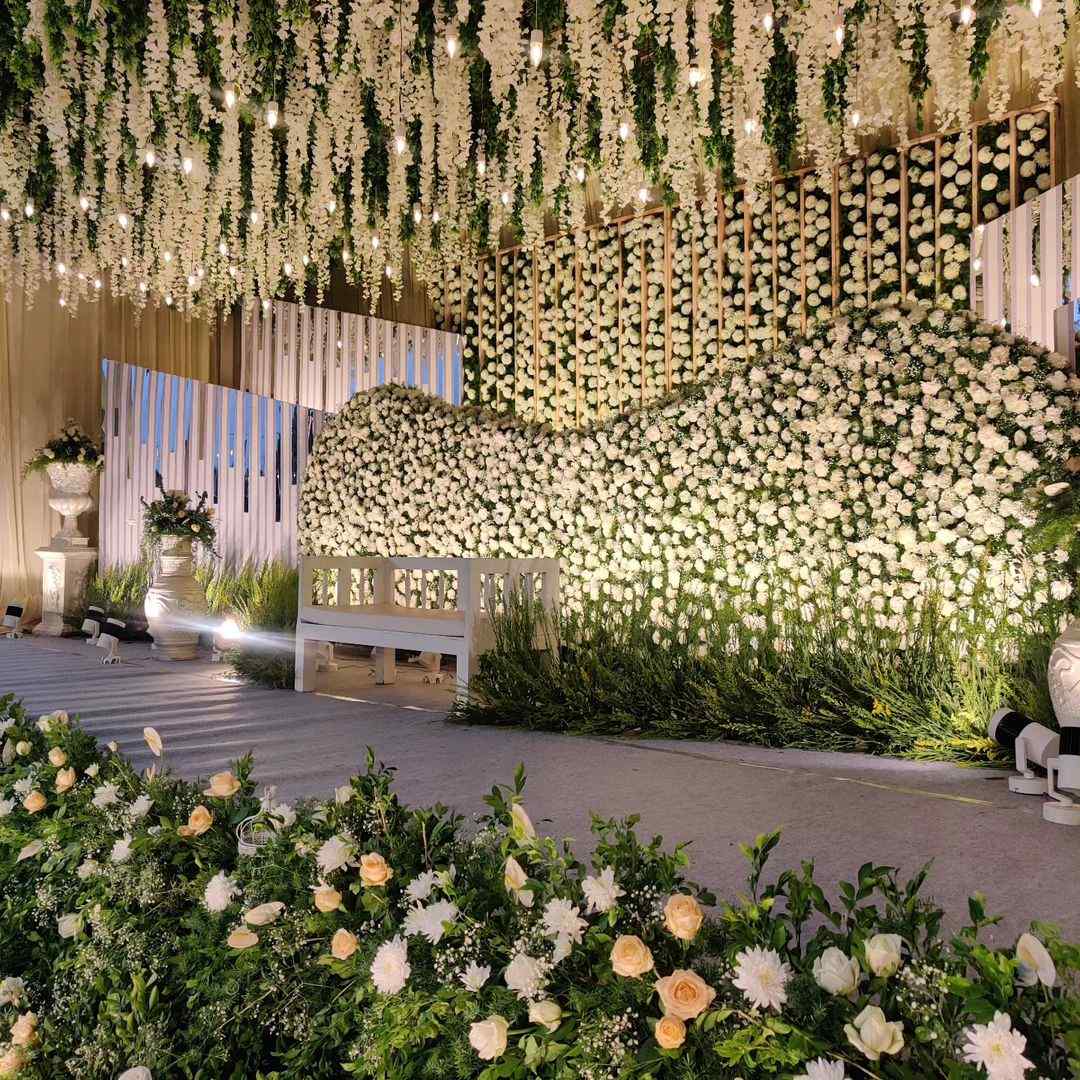 Credits: @ floraweddingplanner
Indoor Wedding Mandap decor
1.A glamorous indoor wedding mandap decor with purple hues paired with off-white drapes adorned with peach & white florals. Are you wondering if a contemporary wedding mandap will be suitable for an indoor venue. In banquet halls, the hotel aesthetic would be perfect for contemporary mandap designs more than a traditional wedding hall.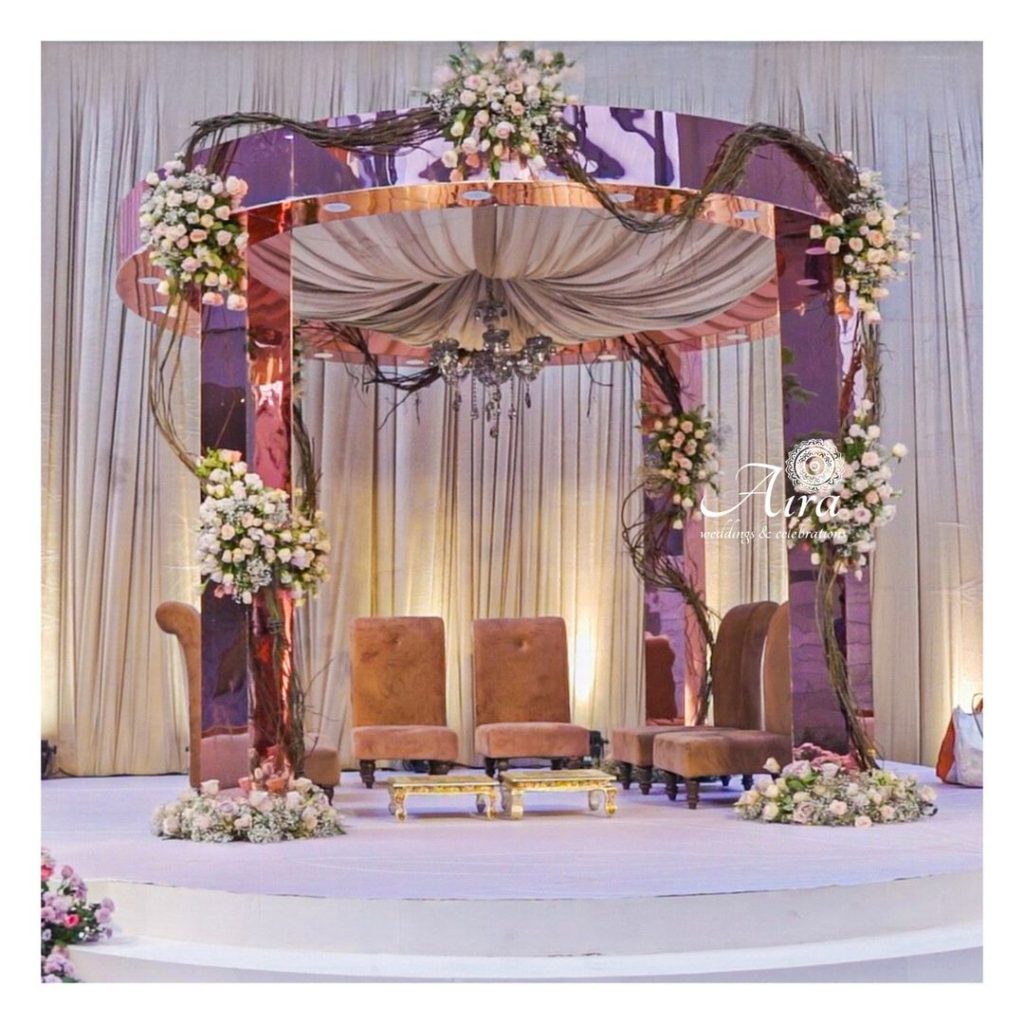 Credits: @ airaweddingplanners
2. A mix of traditional & contemporary mandap design perfectly aligns with an indoor venue vibes.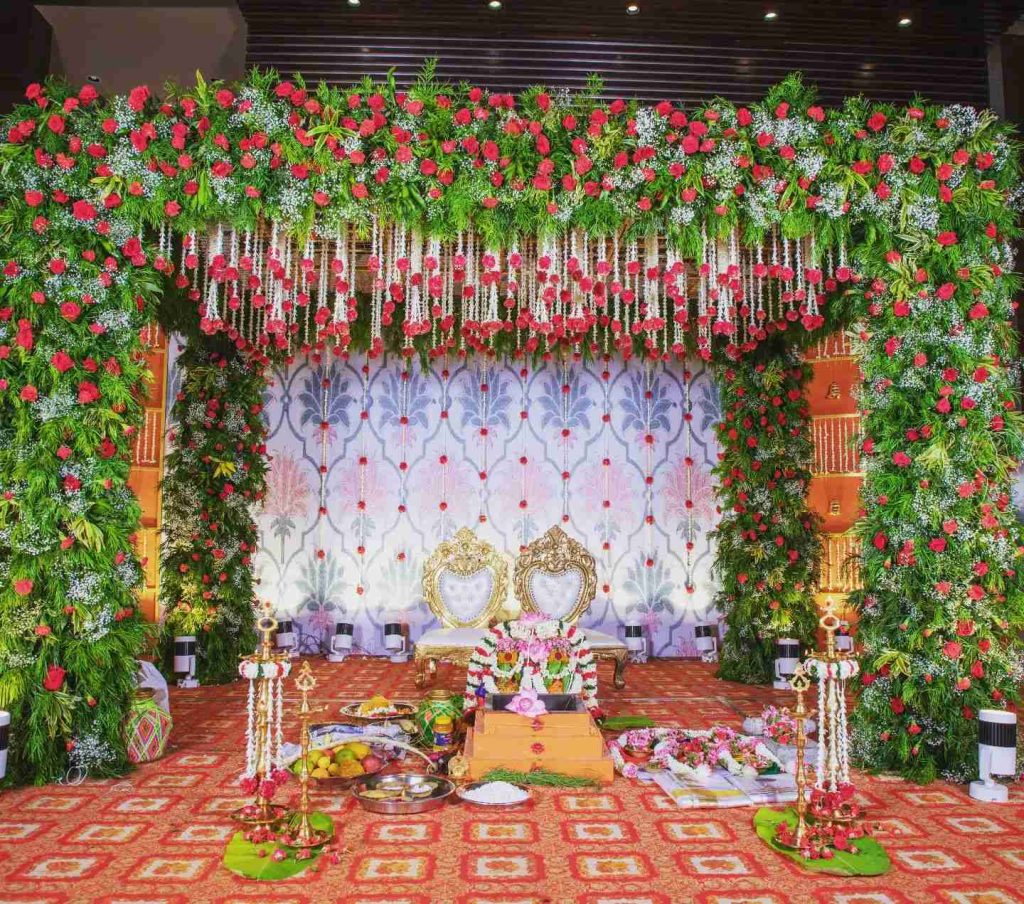 Credits: @ floraweddingplanner