Indian weddings are rich in culture, tradition & are a grand celebration of love & marriage. From intricate rituals to the elegant attires, every aspect of Indian weddings is filled with vibrant colors. Selecting a color theme for your Indian wedding can be quite overwhelming as there are multiple events & your wedding décor color theme set the tone for your wedding.
The appropriate color scheme may turn your wedding location into a breath-taking scene, whether you like a traditional and regal appearance or a modern and energetic mood. This article looks at some of the top color schemes that will give your Indian wedding décor opulence, elegance, and a hint of festive charm. Prepare to be swept away into a world of alluring colors and find the ideal palette.
1, Regal Opulence: Royal Blue and Gold Wedding Decor
Royal blue and gold go hand in hand when it comes to creating a magnificent and enchanted atmosphere for your Indian wedding. This classic color combination creates an atmosphere of opulence, grandeur, and majesty, setting your wedding stage for an event to remember forever.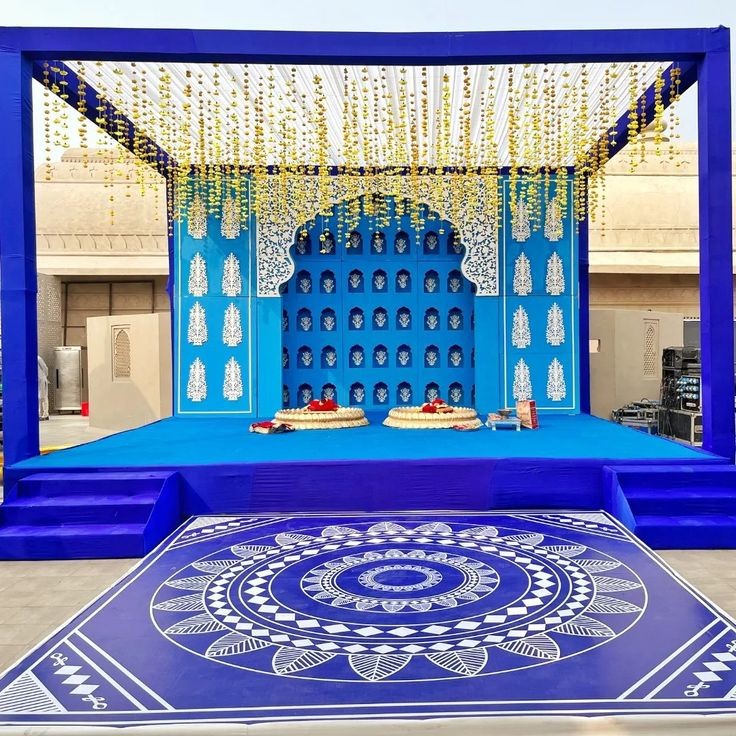 2. Traditional Vibrance: Red and Gold Wedding Decor
A classic Red & gold color palette for your wedding decoration symbolizes love, prosperity & traditional grandeur. It sets a traditional tone for your wedding that captures the essence of an Indian wedding. The richness of red & gold palette exudes vibrance & elegance for a captivating wedding décor.
3. Graceful Sophistication: Ivory and Pastel Pink Wedding Decor
Ivory & pastel pink for a romantic ambience is one of the most sought out color palette in 2023. This color palette adds a touch of elegance, creating a graceful & romantic setting for your wedding.
4. Enchanting Serenity: Mint Green and Gold Wedding Decor
Mint green & gold sets a sense of tranquility and sophistication to your Indian wedding decor. Create a soothing & enchanting ambience for your wedding day.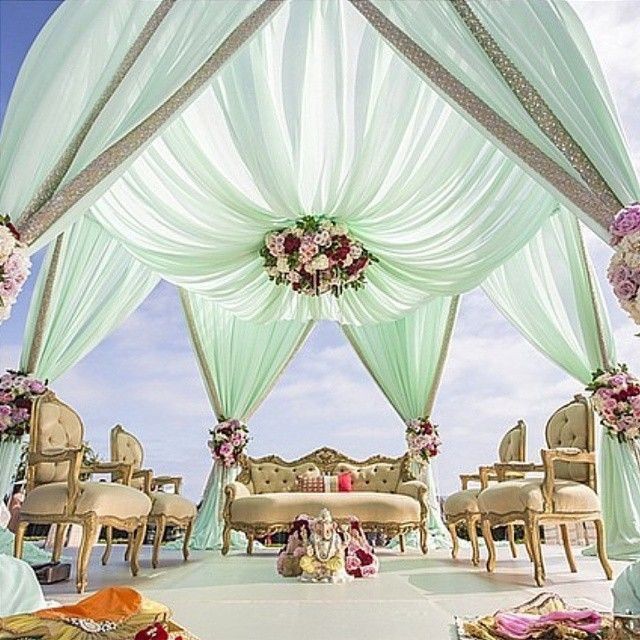 5. Timeless Beauty: Maroon and Gold Wedding Decor
Maroon is a classic color choice for Indian weddings, symbolizing passion and love. Combine it with gold accents to create a rich and timeless color scheme that exudes traditional charm.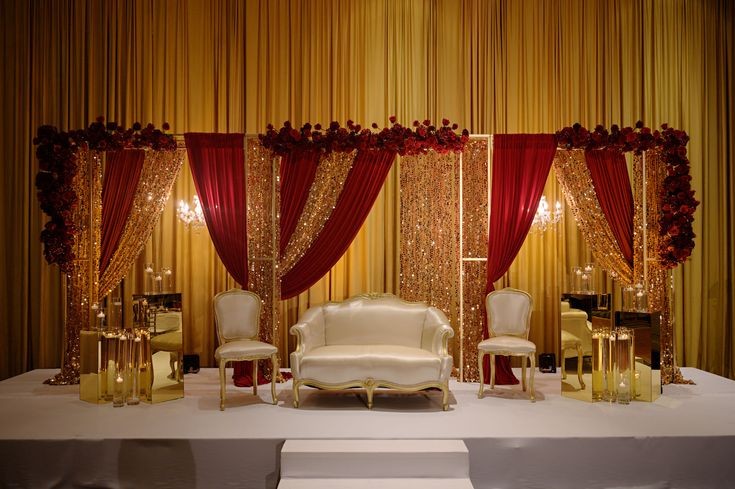 6. Rich Cultural Fusion: Peacock Colors Wedding Decor
Draw inspiration from the vibrant hues of peacock feathers. Incorporate shades of deep blue, green, and hints of gold to create a visually striking and culturally significant color scheme.
You can create a vivid and alluring painting on the canvas of your Indian wedding. The colours you pick play a critical role in establishing the mood and ambiance of your big day, from the time your guests enter the venue through the majestic mandap and the exquisite table sets. The options are unlimited, whether you choose to go for classic vibrancy with red and gold or choose to go for regal luxury with royal blue and gold.
You can create a visually spectacular event that resonates with India's rich cultural heritage by carefully choosing your colour scheme and incorporating it into every area of your wedding decor. You can coordinate the mandap, table settings, lighting, seating arrangements, and bridal wear.
When selecting a colour scheme for your wedding, keep in mind to take into account the venue, season, and overall theme. The ideal colour scheme will give your Indian wedding depth, beauty, and a hint of enchantment, regardless of your preferences for elegant celebrations, exuberant festivities, or a combination of traditional and modern components.
As you start the process of organizing your ideal wedding, embrace the colors that fit your vision and reflect the feelings you want to arouse. Let India's brilliant colors work their magic to create a tapestry of colors that will leave a lasting effect on you, your loved ones, and everyone who is fortunate enough to be present at your joyous celebration.