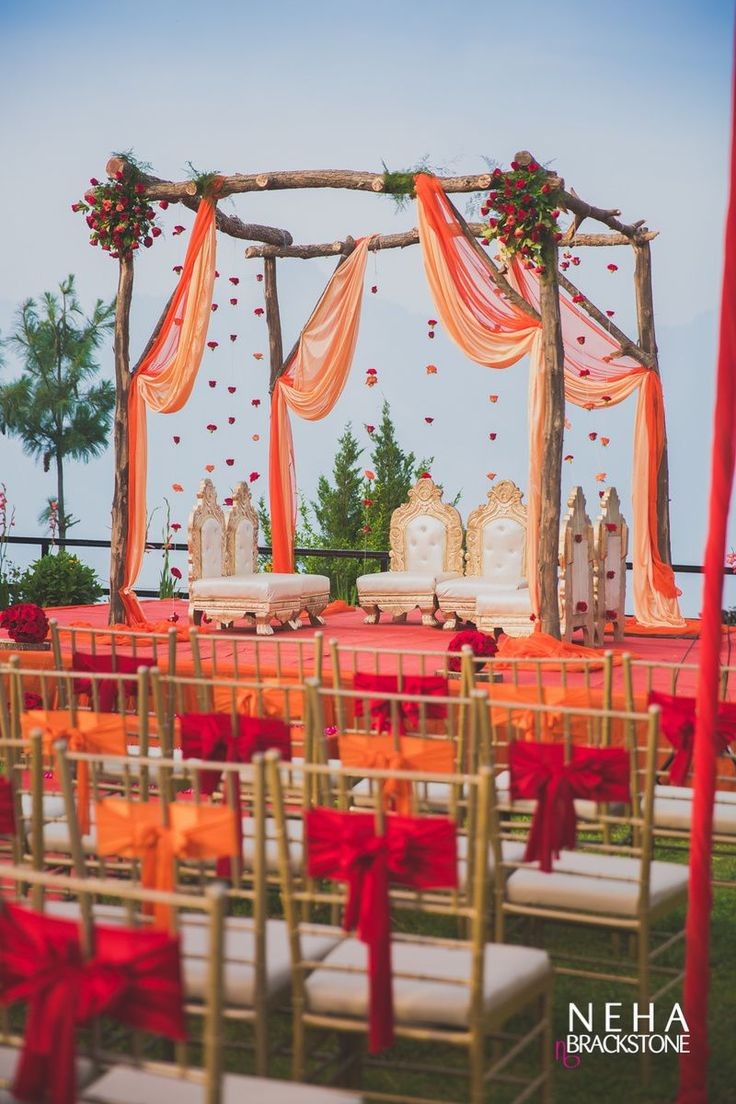 Can we let you in a not-so-secret? We LOVE flowers at a wedding. But flowers can also be pretty expensive. A great wedding tip would be to use fresh flowers smartly for your wedding décor. Fibers, structures, lighting, draping are many alternatives/ additions for floral decoration that are amazing & you will look gorgeous in front of them!
Simple wedding decoration – that looks amazing, just as you expect it & ones that will suit you!
In fact, I'd argue that flowers are beautiful & structures are elegance. A combination of both would be mind-blowing!
With constant newness & trends brimming up every day, brides & grooms are curating thousands of designs, inspirations & mood boards. Here are 10 simple wedding decor that will inspire you for your wedding day!
A peach drape – simple wedding decor
An elegant design done in peachy drapes with floral arch. Be sure to get the best draping artist, the flowy drapes are the one that adds the beauty to this design. This is a simple wedding decor, we can add more white props with flowers to the front of the stage, but a flower liner would change the design tone completely.

Heavenly decor – simple wedding decor
A heavenly design with beautiful structures & floral design to add to the beauty. Simple drapes with floral touches give a sophisticated & an elegant wedding look. This is a simple wedding decor with a mild theme.
Red themed decor – simple wedding decor
A bright red flower wall with structures on both sides is as simple & classic as a wedding decor could be. The floral ceiling is a beautiful touch & adding a heavy floral ceiling would take this look up a notch. The sides are filled with candle light structures that would be amazing during the night. We would suggest a mild color couple seater to brighten the area of the couple. A cream colour seater would be perfect!
Floral elegance – simple wedding decor
A pretty & elegant backdrop with a floral backdrop and decorated props with a floral touch. Love how the color theme is maintained along with the lighting. White carpet is a nice touch for an elegant look.
Garden themed – simple wedding decor
Garden-themed wedding decorations are a favorite among many couples. A big plus with a green background is that you could match it with any of your attire and will contrast beautifully. There is no garden without flowers & this beautiful floral arrangement is an eye-catcher.
Structural designs – simple wedding decor
A simple structural wedding decor that would be perfect for your wedding. The white florals are a beautiful contrast to the bright colored backdrop. Adding some small light bulb props/ chandeliers to the structure would be a perfect view for the reception.
Off-white – simple wedding decor
This one right here is a beauty with a royal look. The draping patterns are so wonderfully done. This simple wedding decor would be the perfect fit for an outdoor wedding decor by the beach.
Half moon floral arch – simple wedding decor
A classic design, a simple beauty that has stood the test of times. This is a picture-perfect design & would best suit garden themed wedding decor.
Traditional decor – simple wedding decor
A traditional wedding decor, a simple haldi decor with banana leaves & traditional flower. This could be done beautifully at your home for a cozy wedding.
Royal wedding decor – simple wedding decor
Royal wedding decor for your reception. Gold & maroon are a perfect blend for a royal look. This backdrop would suit best if your bridal wear is lightly shaded.

We hope you got an idea of how your wedding decor is going to be! We bet it is going to beautiful & up to your expectation! You could also add some DIY decors or a DIY photobooth with your wedding decoration! Do share your pictures with us! We would love to take a look at them!