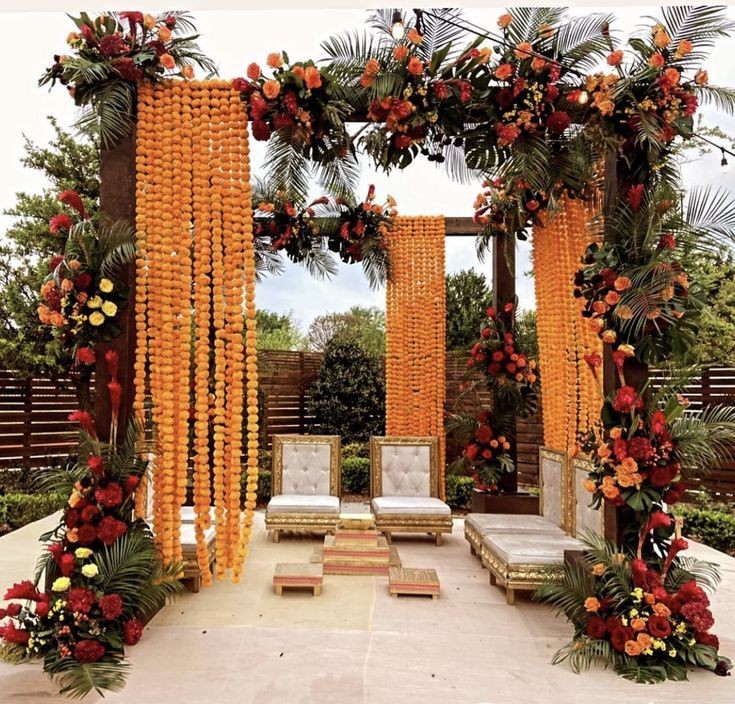 We love fresh flowers just as much as you do, but when it comes to planning a wedding, they could burn a hole in your pocket pretty fast.
No doubt that flowers are beautiful & they are a priority for many at their weddings. Depending on the season, fresh flowers can be quite costly. Though at Indian weddings most decorators order flowers for your wedding once the décor cost is conveyed.
Choose your wedding décor smartly. There are décor ideas that are filled with fresh flower panels, orchid droppings & much more. You could substitute the flowers for artificial ones. Using artificial ones for wedding flowers gives out the same beauty & the restrictions of choosing a décor based on fresh flower cost can be eliminated.
Also, a great tip is that you could mix fresh & artificial flowers, especially use the artificial flowers at places above 6ft. This way any décor areas above a person's reach can be filled with artificial flowers, a great cost reduction strategy.
If you are not the one who prefers artificial flowers for your wedding décor, you could go with simple wedding decors with frames & beautiful extravagant structures & use fresh flowers to enhance the beauty.
Instead of filling every corner of your venue with wedding flowers, you can design your wedding in such a way that floral arrangements are done for the most important points – like during reception you can have artificial ones & for muhurtham you can opt for fresh flowers.
Choose In-season wedding flowers. In season wedding flowers are readily available & is a smart way to save money on your wedding budget.
Incorporating greenery is a cost-effective way to add texture, volume, and a natural touch to your floral arrangements. Greenery is often less expensive than wedding flowers and can provide a lush and sophisticated look when used strategically.
There are many alternative simple wedding décor inspirations to fresh flowers. Origami designs are always in trend & they can be customized for your wedding décor. We have a client who used a lot of DIY paper flowers done by children of the art school. Do you want a unique wedding? These are some ways that you can get creative & go all out on your wedding.
Fresh flowers can enhance your wedding's beauty and fragrance, but they can also be rather expensive. You can retain a great floral aesthetic while staying within your budget by utilizing fresh flowers wisely . To make the most of your floral budget, choose in-season flowers, concentrate on important floral components, embrace greenery, and think about DIY projects. No matter how many flowers are used, the goal is to create a lovely setting that showcases your personal flair and makes your special day memorable.